As the largest city in Scotland, Glasgow is a lively destination that's very popular with international students. It's also a cultural hub, with world-class art galleries and museums and a reputation as a food-lover's paradise! Here are our top things to do on a budget in Glasgow.
1. Visit the Kelvingrove Art Gallery and Museum
First built in 1901, the beautiful Kelvingrove Art Gallery and museum is one of the most-visited attractions in the UK. It has 22 galleries with a range of fascinating exhibitions featuring everything from famous paintings to a full-size Spitfire aeroplane, and even a stuffed Asian elephant named Sir Roger!

If you're interested in ancient Egypt, you'll also be able to enjoy a renowned exhibition in the museum with more than 5,000 artefacts, including Egyptian mummies. Entrance to the Kelvingrove Art Gallery and Museum is free.
2. Relax in Kelvingrove Park
When you've finished looking around the Kelvingrove Art Galley and Museum, why not spend some time relaxing in Kelvingrove Park? Located just behind the museum, Kelvingrove is a classic Victorian park, designed by the famous architect and gardener, Sir Joseph Paxton.

At 85 acres in size, you'll find plenty of space to walk, play sport or just sit and enjoy the views on the banks of the scenic River Kelvin. There is also a bandstand in the park, where you can often catch free events, like concerts, as well as 5 bowling greens, 4 tennis courts and 3 cafés!
3. Tour the Clydeside Distillery
Whisky is easily Scotland's most famous export, and it's something that many Scottish people are very proud of! To learn more about Scottish history and culture, you can take a tour of the Clydeside Whisky Distillery.

You'll hear some fascinating stories about the history of Glasgow and the dockside where the distillery is based, as well as about the history of whisky itself. You will also get to watch expert whisky-makers at work, making the spirit in the traditional way.

Finally, you'll even have the chance to try some different whiskies, so you can decide which kind you like best! This is included in the price of a tour, which is just £15 per person.
4. Watch a film at the Glasgow Film Theatre
Glasgow is known as one of the UK's great cinema cities — in fact, in the 1940s, Glasgow had an impressive 114 cinemas! Glasgow Film Theatre was opened in 1939, and was Scotland's first arthouse cinema.

Today it is still an independent, arthouse cinema, showing things like foreign-language films, independent documentaries and special screenings of cult classics and old favourites. It's also home to the annual Glasgow Film Festival.

The striking building was inspired by Dutch modernist architecture, and the interior still has a very retro look and feel. With such a varied programme, you're sure to find something you want to watch. A student ticket for most films is £7.50, however, before 6pm on Fridays, tickets for all films are only £6!
5. Enjoy the exhibitions at the Hunterian
Part of the University of Glasgow, the Hunterian is a brilliant free art gallery and museum. Some of the exhibits you can see include the preserved remains of a Roman wall that was built in around AD 142, the fossil of a 330-million-year-old shark and the history of medicine in Scotland.
At the Hunterian, you'll also be able to learn all about Charles Rennie Mackintosh, who is one of Scotland's most famous architects and artists. During the late 19th century and early 20th century, he designed many of Glasgow's most famous buildings, like the Glasgow School of Art and the Glasgow Herald building, now known as the Lighthouse.

You'll be able to find out more about his fascinating life, his career and see examples of his paintings and unique furniture designs, and learn why he's such an icon in Glasgow, even today.
6. Watch a football match at Hampden Park
At over 100 years old, Hampden Park is the oldest international football stadium in the world! It's still Scotland's national football stadium, and hosts many exciting games, such as the Scottish Cup final, and the football World Cup. It even hosted the Commonwealth Games in 2014!

It's also very affordable to see a match at Hampden Park — a ticket to see Glasgow's main football team, Queen's Park Rangers at the stadium costs from just £5.
7. Go to the Scottish Football Museum
Based inside Hampden Park is the Scottish Football Museum. This is a must-see attraction if you're a fan of the sport, as you can see a huge collection of football memorabilia on display, including the world's oldest surviving football trophy.

For the full experience, you can book a combined tour of the museum and the stadium. On the tour, you'll be able to see inside the team changing rooms, and even have a go at scoring a goal yourself in the Hampden Hotshots Gallery! The tour of the stadium and museum costs a very affordable £13.
8. Explore Glasgow Cathedral and Necropolis
Glasgow Cathedral is truly stunning. The oldest building in Glasgow, it was first opened in 1136, and is known as one of the finest examples of Scottish Gothic architecture. Inside the Cathedral you can see some beautiful stained-glass windows, and go down to the crypt where you will find the tomb of Saint Mungo, the patron saint of Glasgow.

On the hill behind the Cathedral, you'll find Glasgow Necropolis. Opened in 1833, it's one of the most beautiful Victorian cemeteries in the UK. Although it might seem a little bit weird to walk around a graveyard, this is actually very common in the UK!

The Necropolis is full of stunning architecture, such as statues, monuments and tomb ornaments, and some of Glasgow's most famous citizens are buried here, giving you the opportunity to learn more about the area's history. It's also a great place to come for views over the city!

Both the Cathedral and the Necropolis are free to explore.
9. Learn about local history at the People's Palace
The People's Palace is a small but incredibly interesting museum on Glasgow Green dedicated to the people of Glasgow. There are artefacts, photographs and films showing how normal Glaswegians lived in the 18th to the 20th century, including a glimpse inside Glasgow's famous tenement buildings, and even clips of popular Scottish TV shows.
10. Head out to Pollok Park
Pollok Country Park on the south side of the city is a large, quiet park and wildlife sanctuary, where you'll find Clydesdale horses and Highland Cattle. There are peaceful woodlands to explore and 11 kilometres of scenic walking trails and gardens. There's even a waterfall where you'll be sure to want to take a photo.

It's free to explore the park, but for £5.50, you can also visit Pollok House, a grand country manor in the grounds of the park. Inside, you can look around the former servants' quarters, to see how the staff of the house lived, and admire an impressive collection of Spanish art.

If you feel hungry after your visit, you can stop at the Edwardian Kitchen Café for a traditional, home-made snack.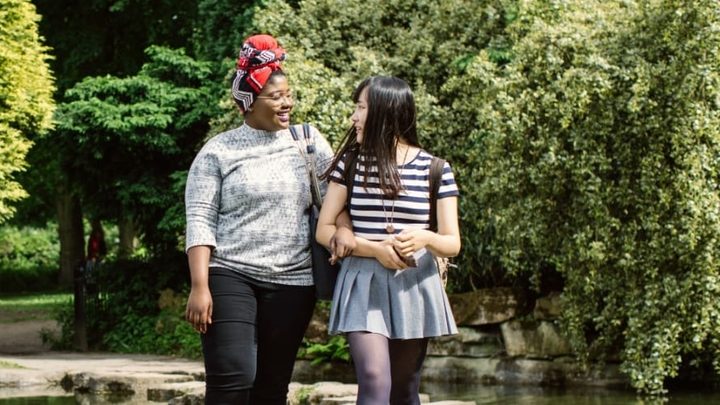 11. Smell the roses at Glasgow Botanic Gardens
In Glasgow's West End, alongside the River Kelvin, you'll find Glasgow Botanic Gardens. These beautiful gardens were founded more than 200 years ago by the Scottish botanist, Thomas Hopkirk, and have been a popular destination ever since.

Here you'll be able to enjoy a wonderful-smelling herb garden, a world rose garden and the UK's national collection of tree ferns. You can see a wide range of carnivorous plants, such as Venus fly traps, and even the remains of the disused Glasgow Botanic Garden railway station.

The highlight of the garden is the Kibble Palace, a magnificent glasshouse designed by John Kibble. It houses the fern collection, as well as some fantastic sculptures and a stunning multi-faceted mirror. Entry to the gardens and the palace is free.
12. See a show at the Citizens Theatre
No matter what your budget, you'll be able to see a great show at the Citizens Theatre, known locally as the Citz. The theatre stages a mixture of contemporary versions of classic plays and brand new Scottish drama, as well as pantomimes at Christmas time.

Prices vary, but it's about £15 for a matinee performance and students get £3 off all tickets.
13. Watch a gig at the iconic Barrowland Ballroom
Known as the Barrowlands, this is not only one of the most famous music venues in Scotland, it's one of the most iconic in the world! Originally built in 1934, the current building dates to 1960, and you can see its glitzy neon sign for miles around. It's famous for its amazing acoustics, sprung dancefloor and its independent spirit and retro interior.

All the best bands play at Barrowlands on tour: just some of the acts who have played there include David Bowie, The Smiths, U2, Franz Ferdinand and Snow Patrol. Next door to the venue, be sure to snap a photo with the famous coloured pathway that features the names of all the artists who have played at Barrowland Ballroom in its many years as a music venue.

Ticket prices vary depending on who you're going to see — look out for new, local artists playing for a cheap night out.
Study in Glasgow
If you'd like to study in the beautiful city of Glasgow and explore all of the attractions above and more, we can help. Kaplan works with the University of Glasgow and by studying a pathway course at Glasgow International College, you can gain entry to the University.

Click on the links below to learn more about how a Kaplan pathway course could help you gain entry to a degree, or use the degree finder below to discover what you can study.