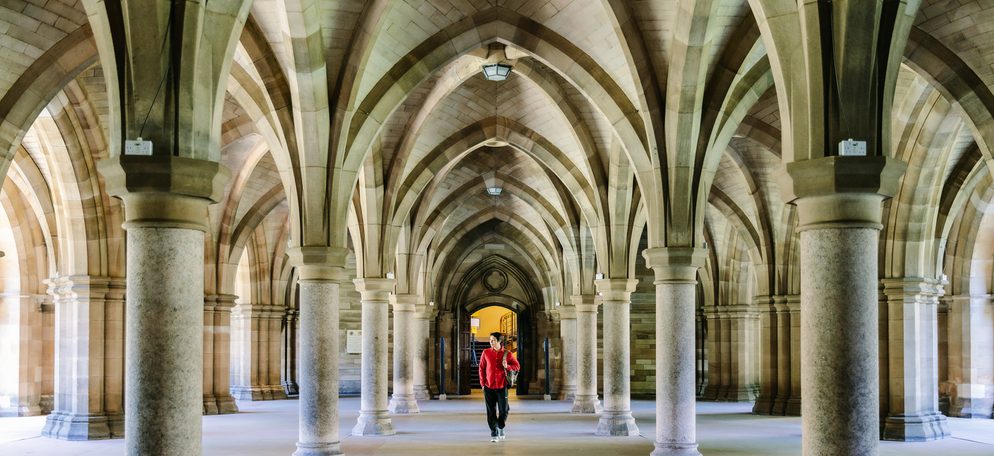 Glasgow International College
Prepare for a degree at the University of Glasgow with a course at the on-campus International College.
How it works:
Step 1
at Glasgow International College.
Step 2
Pass your degree preparation course
at the required level with good attendance.
Step 3
Enjoy guaranteed admission
to your chosen degree at the University of Glasgow.
Where is Glasgow International College?
Glasgow International College is based on the University of Glasgow's Gilmorehill campus.
Glasgow is the largest city in Scotland, a country in the north of the UK.
It's an exciting place to live and study, with lots of culture, international cuisine and sights to explore.
What is it like studying at the International College?
Glasgow International College is full of students from lots of different countries around the world. It's a welcoming environment, where you can prepare for university and make new friends.
Why choose Glasgow International College?
50 nationalities
represented by new students at the College in 2022
Lively location
in the student-friendly West End of the city
Welcoming environment
with staff who are there to help you
Access university facilities
from your first day at the College
Professional teaching
from dedicated tutors
Great transport links
to the rest of Scotland and the UK
What can I study at the College?
Your degree preparation course prepares you for a related undergraduate or postgraduate degree at university. Progression degrees at the University of Glasgow are available in the following subject areas:
What Glasgow International College students think
We care about your experience at the College! Learn more about student support.
Student satisfaction
95%
agreed that the teaching on their programme was good
95%
agreed that College staff cared about helping them succeed in their studies*
*We surveyed 1,119 of our students in 2022.
How many students get an offer to study at the university?
94%
of students who passed their degree preparation course received an unconditional offer for the University of Glasgow in 2022
Students who pass their degree preparation course but don't meet the progression requirements for their chosen University of Glasgow degree are guaranteed a place at a UK university through our University Placement Service.
Download useful information
(7MB, PDF)
Includes:
University of Glasgow brochure
Course information
University of Glasgow flyer
Next steps