University of Connecticut transfer admission
If you already have credits that you earned at another college or university, but would like to continue your studies at UConn, we can help. You can apply for transfer admission to join an undergraduate program at UConn.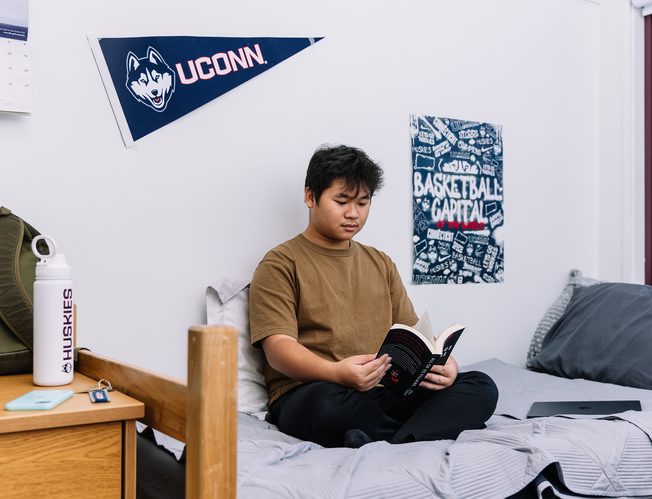 What is transfer admission?
Transfer admission is an option for qualified undergraduate students who have earned some college or university credits at another school and wish to transfer their studies to the University of Connecticut. 
At Kaplan, we can help you apply for "transfer admission" into Year 2 or 3 of a bachelor's degree program at UConn. The University will evaluate which of the credits you've already earned can be applied toward a UConn degree. Upon graduation, your degree will be awarded by the University of Connecticut. 
Why apply for transfer admission at UConn?
1,200+
transfer students enroll at UConn each year
9
schools and colleges offering bachelor's degrees
115+
undergraduate majors
$377 million
in research grants and awards in 2021
Top 30 public university in the USA 
U.S. News & World Report 2023
Top 200 university in the world
Center for World University Rankings, 2022–23
If you have 12 or more transferable undergraduate credits from another college or university, you can apply for transfer admission to UConn.

You will also need to meet the following basic entry requirements:
Academic: minimum GPA 2.7–3.5 out of 4.0, depending on the program
English language: minimum TOEFL 79 (no subscore below 19) / IELTS 6.5 (no subscore below 6.5) / Duolingo 100 (no subscore below 90)
If you have completed one year or more of full-time coursework at a US college or university with a GPA of 3.0 or higher in non-ESL courses, you are not required to submit English proficiency test scores.
Undergraduate transfer admission
For students who have started their undergraduate studies at another university or college and want to complete their bachelor's degree studies at UConn.*
*Only available with a Fall semester start.
Ready to take the next step?
Learn more about UConn
What majors are available at the University of Connecticut? What is the social scene like at UConn? Download our helpful guides and find out everything you need to know.
(2.55MB, PDF)
(0.24MB, PDF)
Next steps