Located right by the beach on England's sunny south coast, Brighton is a hugely popular destination for international students. There's lots for young people to see and do here — in fact, here are our best things to do on a budget in Brighton.
1. Relax on the beach
One of the first things you'll want to do when you arrive in Brighton is check out the pretty pebble beach! This is a great place to relax on your own for a couple of hours with a book, or you could bring a group of friends and have a picnic.

It's completely safe to swim in the sea at Brighton too, although it might be a bit more chilly than you're used to at home! Entrance to the beach is free, although there's a small charge of around £2 for hiring a deck chair.
2. Take up a new sport
Brighton is ideal for outdoor activities, making it the perfect place to get take up a sport! Beach volleyball is very popular in Brighton, and there's a permanent outdoor pitch where you can play.

It doesn't matter whether or not you have played the sport before, as there are classes for beginners, intermediate and advanced players costing only £6.50 per hour. If you don't need a coach, there are drop-in sessions available where you can just drop by and play a game from £4.50 per person, per hour. It's a great way to get fitter and to meet new people, and one of the best cheap things to do in Brighton!
3. Stroll along Brighton Palace Pier
One of the most popular things to do in any British seaside resort is to stroll along the pier! You'll get some beautiful views out over the sea and the coast, and if you need to rest, there are plenty of places where you can sit down and just watch the world go by.

Entry to the pier is completely free, although you might want to take some change in case you are tempted by all the delicious food and drinks you can buy there!
4. Go to the funfair
Did you know that if you make it all the way to the end of the pier, there is a funfair you can visit? There are lots of rides and attractions, from bumper cars, trampolines and amusement arcades to thrill rides and big rollercoasters.

You can pay on a per-ride basis, but if you're likely to go on a lot of rides you can save money by purchasing an unlimited day pass online in advance for £17.50.
5. Have a day out at the world's oldest aquarium
SEA LIFE Brighton is the world's oldest operational aquarium and it's open every day except for Christmas Day, so it's a great place to visit if it's cold or raining outside. You can see everything aquatic here, from sharks to sea turtles, and there's even an interactive rock pool where you can hold some of the smaller sea creatures, like starfish and crabs.

The aquarium also boasts a purpose-built Ocean Tank, where you can ride in a glass-bottomed boat and see the colourful reef fish up close. A ticket on the day costs £20.50, but if you book online just one day in advance it's only £14.40!
6. Visit the Royal Pavilion
The Royal Pavilion is one of the most beautiful buildings in the whole of the UK. The former royal palace is Grade I-listed, a special status given to the country's most important buildings.

The Pavilion was originally built more than 200 years ago as a summer home for the Prince Regent, and it's a fantastic example of the grand Indo-Saracenic architectural style that you can see on many of the city's Regency-period buildings.

The Pavilion is beautiful to look at just from the outside, but if you'd like to go inside and see all of the exquisite historical objects, furnishings and works of art, tickets cost £7.75 for both students and residents of the area.
7. Sunbathe in the Royal Pavilion Garden
Even if you don't pay to go inside the Royal Pavilion, you can still visit the grounds of the Pavilion, with its beautiful garden, for free. It is said to be the only fully restored Regency garden in the UK, and it's home to a wide variety of plants, as well as plenty of grass where you can sit down and relax, and a café where you can buy a drink or a snack.

The garden is open all year round, but it's especially fun to visit in summer, when the garden attracts lots of street entertainers and musicians. You can sunbathe, read or book or just enjoy the lively atmosphere.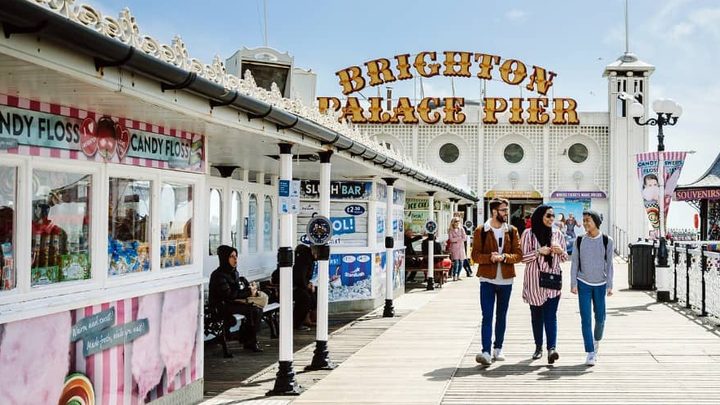 8. Learn about local history at Brighton Museum and Art Gallery
Brighton Museum and Art Gallery is just outside the Royal Pavilion in the Royal Pavilion Garden. This brilliant collection brings art and history together through a diverse range of exhibitions on subjects from Ancient Egypt to a display of photos and oral histories celebrating Brighton's LGBTQ+ community.

There are also 3 galleries in the museum dedicated to fine art, including the Prints and Drawings Gallery, which rotates the art on display every 6 months, and the Paintings Gallery, which changes its display every 2 years.

Admission to the Brighton Museum and Art Gallery is £6 for a standard ticket, but students and residents of the local area are welcome to visit for free!
9. Wander around The Lanes
One of the most popular things to do on a budget in Brighton is wander around the collection of narrow shopping streets known locally as The Lanes.

This charming part of the city centre is where you'll find a quirky collection of independent shops. There are lots of jewellery stores, antique shops, clothes stores, unusual local gifts and plenty of places selling artisan food and drink that you can either enjoy there or take away.

As with most shopping areas, window shopping and browsing is free, and the prices for goods in Brighton are often very reasonable if you decide to buy something. If you like vintage things, you can find plenty of bargains in antique shops like the famous Snooper's Paradise, for example.
10. Walk along the promenade
Brighton is a great city for walking. You can take a long walk along the promenade, the street that borders the beach, and enjoy Brighton's miles of coastline. There are plenty of places to stop to eat and drink along the way, as well as pretty Art Deco shelters where you can sit down. If you're lucky, you might even catch a free concert at the bandstand!
11. Tuck into traditional fish and chips
If you're looking for something cheap to do in Brighton, why not try some fish and chips, the UK's most famous meal? It's also a dish that's traditionally associated with the seaside, so you'll fit right in with the locals!

There are loads of places you can find fish and chips in Brighton, including the many pubs, cafés and restaurants, but the cheapest and the best option is to get something to take away from one of the fish and chips shops you'll find along the seafront.

Some of the them have tables for you dine in, but if the weather is nice, you can get them wrapped up to take down to the beach or eat on a bench on the promenade.

Alternatively, look out for Brighton Shellfish & Oyster Bar. It's one of the oldest food stall on the seafront, selling only freshly caught seafood — it's famous for its cockles and mussels. Whichever you choose, you should be able to get a hot, filling and tasty meal for around £5.
12. See the sights from the British Airways i360
Although it might sound like an aeroplane, the British Airways i360 is actually a viewing tower. Like the name implies, you'll get a 360° view over Brighton from the round, glass pod — on a clear day, you can see for miles!

A student ticket is £10, but if you live in Brighton you can pay £1 for a Resident Membership. This will enable you to go on the i360 as many times as you like for a whole year, for only £7.42 per ride.
13. Enjoy some tasty vegetarian or vegan food and drink
Brighton has long been famous for its alternative scene — that means it was pioneering vegetarian and vegan food long before it became popular in the UK. Food for Friends is one of the city's oldest vegetarian restaurants, and it has even won awards for the quality of its food and the value customers get for their money.

If you just want to pick up something quick, there are loads of vegetarian and vegan fast food cafés in the city centre, or you could indulge in that seaside staple, ice cream! There are many ice cream parlours and dessert bars to choose from, but you can head to Boho Gelato for over 300 flavours and plenty of dairy-free, vegan options.
14. Escape to the country in South Downs National Park
The UK is known for its beautiful countryside, and in Brighton you'll be close to a fantastic example of this at the South Downs National Park. The South Downs features 11,600 kilometres of scenery where you can walk, hike and cycle.

There's a variety of different landscapes to explore, from woodlands, to white cliffs and rolling hills. One of the most famous spots is Devil's Dyke, a deep valley that's a great place to take a picnic.

Alternatively, you'll find lots of cosy pubs and eateries in the traditional English country villages in the South Downs where you can stop to rest before you make the journey back to your student accommodation.

South Downs National Park is easily accessible by bus from Brighton. A return to popular locations within the South Downs, like Devil's Dyke and Stanmer Park, costs £5. Alternatively, you can buy a Discovery Ticket, which gives you unlimited travel in the area for £9.00.
Study in Brighton
We work with the University of Brighton, a brilliant university in the heart of the city.

Through Kaplan, you can study a pathway course at the University of Brighton International College that will help you qualify for entry to a bachelor's or master's degree at the University of Brighton, even if your current grades don't meet the entry requirements.

Use the degree finder below to search for degrees, or contact us to start your path to the University of Brighton.