Moving away for university is an exciting time in your life, but it's also a huge adjustment. It can be especially challenging if you're moving far away from home to earn your degree. There's a lot to consider, so if you're thinking about studying at Arizona State University, you should take a look at our top things you need to know about ASU student housing.
Things you need to know about ASU student housing
1. Where will I live?
This is probably the first and most important question that you want to know the answer to.

First-year undergraduate students live on the campus of their major in special residential communities.

Transfer and graduate students can apply to live on any campus or find off-campus accommodations (ranging from ASU-managed apartments right next to campus to shared houses across the Phoenix area).

ASU-USA Pathways students can apply to live in a West campus residence
English Language Program (ELP) students live in homestays with a local host family, or apartment-style residences near the Tempe campus.
2. Is ASU student housing guaranteed?
At ASU, all first-year undergraduate students are guaranteed on-campus housing in one of the 17 residential colleges across ASU's 4 Phoenix area campuses. Equally, first-year students at ASU@Lake Havasu are guaranteed a room in Lake Havasu Hall.

If you're a transfer student, graduate student, or you've been admitted to a pathway or English preparation program, then university housing is limited on each campus and not guaranteed but we encourage you to apply.
3. What kind of room will I have, and how is it assigned to me?
As a first-year student, you'll automatically have a room in a residence hall on campus assigned to you after you've paid your enrollment deposit. Most first-year students share a room with another student. There are private rooms available but these are limited and fill up quickly!

Room choices vary by residence hall and campus, but may include: traditional, shared 2- or 3-person bedrooms with community bathrooms; 4-person, 2-bedroom suites with shared bathrooms; 2- and 4-person suites with private bedrooms and private or shared bathrooms.

All suites, apartments, and rooms are single gender by default.

To find out more, you can view floor plans for student housing options on each campus or take a virtual tour.
4. Who will be my roommate?
One of the most frequently asked questions that first-year students have is "How do I get assigned a roommate?" The answer is that you fill out a lifestyle questionnaire and then you're matched with a list of compatible roommates.

You can choose your roommate from this list, but you're not limited to only those students. For example, if you have a friend also going to ASU, you can choose to live together.

However, most students live with someone they don't know. This might seem a little scary, but many ASU students who share with a random roommate end up having a great time.
5. How safe is it?
Security is an important factor to consider when deciding where to live as a student. You'll want to feel safe and secure when you study, and that's what ASU's student housing offers. All residence halls are equipped with keycard entry and 24/7 security patrols, meaning you and your belongings will be safe.

At ASU, a student ID card is required to enter the perimeter of all on-campus residence halls, and residents must meet guests at the front desk and escort them at all times, providing a safe campus living environment. 

Your safety is a priority. You might have heard of "RAs" or "Residential Assistants," who live in most US college dorms to help students with residential issues and organize events and activities in their residence halls. Well, at ASU, they're called CAs (Community Assistants) instead of RAs. They're always around to support you and give you any help you need.
6. What are the facilities like?
If you live on campus, then you won't have to worry about a thing. You'll have your own bed, desk, chair, dresser and closet area in your room. Rooms are air-conditioned and you'll also have all utilities, cable TV and Wi-Fi at no extra charge.

On-campus housing includes free laundry facilities, community kitchens, and recreation and study spaces. Off-campus apartments managed by ASU often have outstanding facilities such as a resort-style pool complex, fitness center and gaming lounge.
7. What will I eat?
As a first-year student living on campus, or any other student living on campus without a stove, you'll require a meal plan. But even if you live off-campus, then you're advised to get a meal plan because it will make your life a lot easier.

Sun Devil Dining offers convenient, healthy and delicious food at over 50 campus dining locations. You can find international dishes, Halal food, gluten-free, and vegetarian and vegan options.

All ASU Residential Dining Halls are "All-You-Care-To-Eat," which means you can eat as much as you like when you're there. There's a variety of meal plans to choose from to fit your dietary restrictions or cultural preferences, so you can select what suits you best.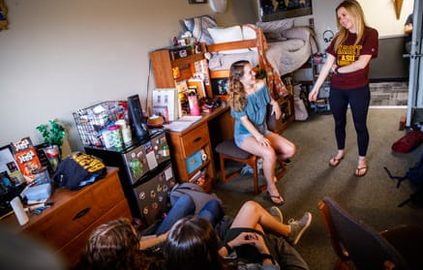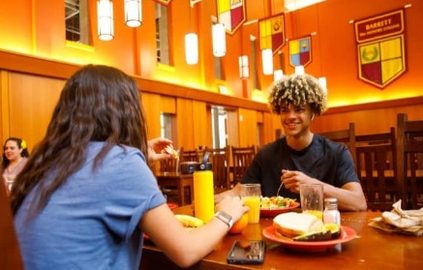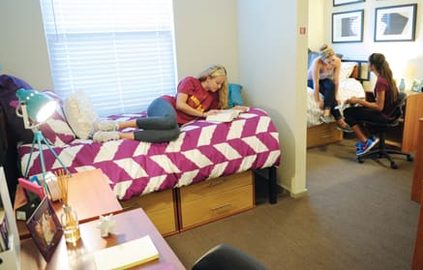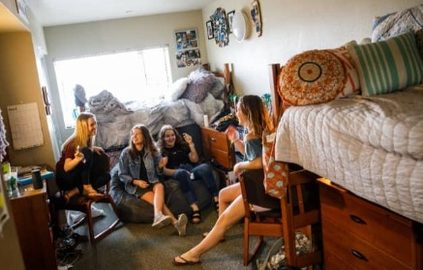 8. When do I need to book?
There's a high demand for ASU student housing and space fills up quickly, so it's important to book early.

Housing is allocated on a first-come, first-served basis, so it's a good idea to review your options as soon as you've paid your enrollment deposit to give you a better chance of securing your preference. Apply for housing by May 1 to self-select your bed space. After that date, you will be assigned accommodations based on availability.

If you're a pathways, transfer or graduate student and you apply early, then you'll receive priority consideration.
9. What is a residential college community?
As a first-year undergraduate at ASU, your on-campus accommodation is allocated according to your academic major. This means you'll have a space reserved for you in a residential college. In your residential college community, you'll live alongside students who are all studying in the same academic college and campus as you.

Living with your classmates means that it's easy to make friends. So you'll be able to eat together, study together, and challenge and encourage each other every day. You'll even have access to events and amenities that are tailored to your major, including tutoring, advising, workshops and academic resources.
So that's 9 things you need to know about ASU student housing!
To sum up, living on campus at ASU is a fantastic experience. It's convenient and you'll gain independence while having a strong support network around you. So make sure you look into your options early on so that you don't miss out, and you can have the full ASU experience. You can find out more and get in touch via the links below.