Ideal for creative students, Art and Design covers an impressive range of degree subjects, from Fine Art to Games Design or Heritage and Museum Studies. You might be surprised by what you can do with an Art and Design degree — it could lead you to a rewarding career doing something you love.
You have so many degrees and specialisations to choose from
There are many different Art and Design degrees to choose from. If you're interested in studying BA Art, for example, Arizona State University (ASU) offers multiple concentrations, including ceramics, painting and drawing, sculpture, and textiles. These degrees are taught in ASU's Herberger School for Design and the Arts, the USA's largest comprehensive design and arts school at a major research university!

However, art has moved with the times and there are plenty of options for budding digital artists too. Bournemouth University, for example, is renowned for its Computer Animation and Digital Effects degrees. Meanwhile, the University of Connecticut has a number of Digital Media and Design programmes.

On the design side, you can study a range of different Fashion Design degrees at Nottingham Trent University. Elsewhere, many great universities offer degrees in Graphic Design, and Product Design. Finally, if you always dreamed of designing video games, you can study Games Design at the University of Brighton!

There are also many degrees that allow you to learn about Art and Design even if you don't want to become an artist yourself. These include subjects like Art History, and the University of Essex also offers degrees in Curating and Heritage & Museum Studies.
Art and Design degrees suit many different personalities
Many different people could find themselves suited to an Art and Design degree. If you're artistic and love to create beautiful things, a degree in this area could be the ideal opportunity for you to unleash your creativity!

However, there's so much more to the field than making pretty things. If you're a problem solver, inventor or an entrepreneur, a design degree could be right for you. Maybe you think a common product could be improved or you have an idea for a new one — a degree in Product Design can help you bring your ideas to life.

Finally, perhaps you enjoy collecting things and organising those collections to best show them off, or just love the atmosphere of art galleries and museums. A Curating or Heritage degree could help you get a job that suits you.
Your career prospects will be varied and interesting
A degree in Art and Design could lead to a job in many fields, with options to be self-employed or freelance.

For example, while many Art students become artists, you could also be an Art Teacher, Art Historian or even a Tattooist! Alternatively, you could channel your creativity into working as an Animator or Illustrator as a freelancer or in-house at a creative agency. Some Art careers can be very financially rewarding — Art Directors and Creative Directors earn around £45,000 and £65,000 respectively.

Within Design, there is also a great mix of degrees that can lead to a specific job, such as Games Design and Graphic Design, and degrees that offer a lot of flexibility when it comes to starting your career too.

For example, with a Fashion Design degree you could start your own clothing line or design clothes for another brand. However, you could also work as a Retail Buyer, Visual Merchandiser or Stylist.

Similarly, Pace University's Human Centered Design degree incorporates the study of many different fields, setting up graduates for diverse careers such as Information Architect, Product Designer, UX/UI Designer and Web Marketer.

Finally, as a Designer, your skills will be in high demand, setting you up for a successful and secure future. According to recent research, Product Designer, Graphic Designer and Motion Graphics Designer, which is an area of animation, are all in the top 10 most in-demand jobs for 2022.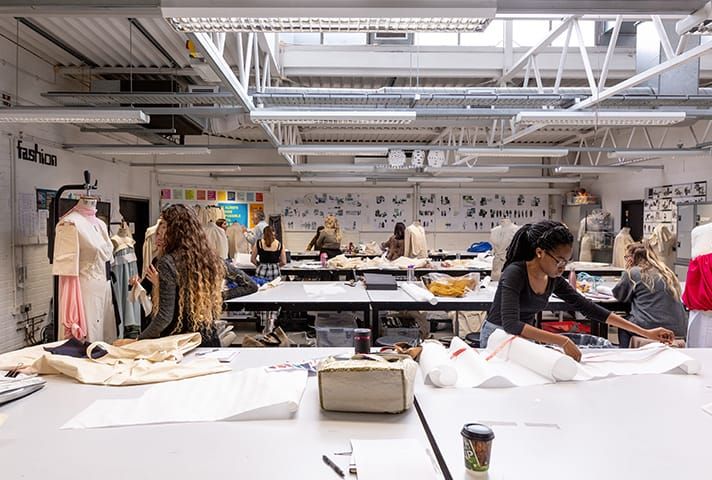 How to study an Art and Design degree
If any of the degrees or careers mentioned above sound interesting to you, Kaplan can help you pursue your goals.

We help international students gain entry to a great degree in the USA, UK, Australia or New Zealand. We can help you navigate the sometimes complex university application process, giving you guidance on writing your personal statement and helping you to stay on track with deadlines and gathering the supporting evidence you'll need to provide with your application.
Or, if you don't currently have the grades to get into the degree or university you want, you can study a degree preparation course, which helps you improve your academic skills and English language level to match the requirements of a range of top universities. If you successfully pass your course, you're guaranteed a place on your chosen degree!

Why not check out all the available degrees using the degree finder? Alternatively, you can contact us and we'll help you to explore your options and find the best route to your dream career.