As one of the most historic cities in the USA and the birthplace of the American Revolution, Boston is filled with fascinating landmarks, museums and cultural attractions. And the best news is — you don't need to spend lots of money to explore the city. There are lots of things to do in Boston that are cheap or even completely free.

Here are our top things to do in Boston on a budget.
1. Admire some fine art at a local museum
View incredible paintings, tapestries, sculptures and decorative arts from all over the world at the Museum of Fine Arts and the Isabella Stewart Gardner Museum. Both museums are just a 15-minute walk from Simmons University, and they're also free to enter with a Simmons University student ID.

Students visiting the Isabella Stewart Gardner Museum can also get discounts on gallery tours led by museum teachers, free self-guided gallery visits, and free tickets to public programs and lectures.
2. Go thrift store shopping in Cambridge
Head to Cambridge and browse for some bargains at The Garment District, a huge thrift store that sells everything from Halloween costumes to vintage designer items.

You can even climb into "The Pile" downstairs where clothing is sold by the pound. You might have to spend a while sifting through it to find something you like, but it certainly makes for a fun few hours.

Another great thrift store in the area is Great Eastern Trading Company. Founded in 1969, it was one of the first vintage stores in Boston. It stocks items from the 1920s right through to the 1980s — and there's a $5 bargain rack too.
3. Walk the Freedom Trail
Learn the story of the American Revolution as you walk the Freedom Trail. See 16 official historic sites, including the Paul Revere House, the USS Constitution, the Bunker Hill Monument, the Benjamin Franklin statue and more. You can either guide yourself along the Trail, or sign up for a free walking tour.
4. Catch a movie at Boston Regal Fenway
Thought movies were a no-go on a budget? Think again! Regal Fenway offers discounted student tickets when you present your student ID at the box office.
5. Enjoy some time in nature in Back Bay's beautiful parks
One of the best things to do in Boston on a budget is to discover its natural beauty. Back Bay is a lovely area with lots of parks to explore. It's surrounded by over 1,200 acres of green space, including the Charles River Esplanade and the Public Garden, both part of the Emerald Necklace system of parks.

The Public Garden was the first public botanical garden in America. Today, the Garden is a popular spot for weddings, owing to the wide variety of colorful plants and its romantic setting.

These parks are ideal places for outdoor activities: running, walking, cycling, boating and ice skating. In the summer, you can catch free outdoor concerts at the Esplanade's Hatch Shell stage.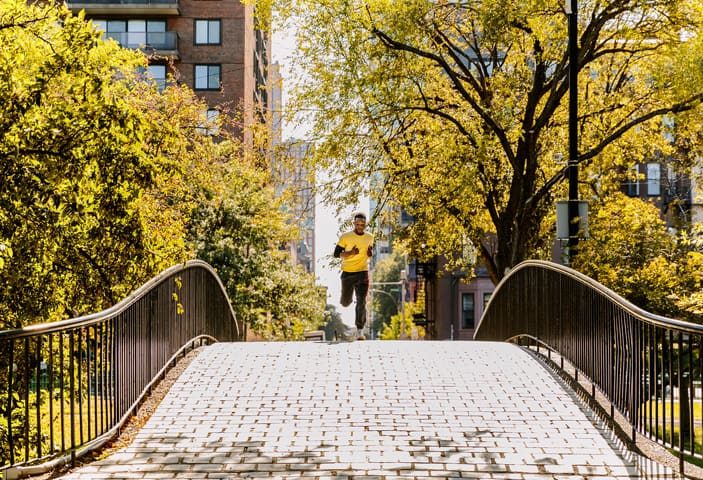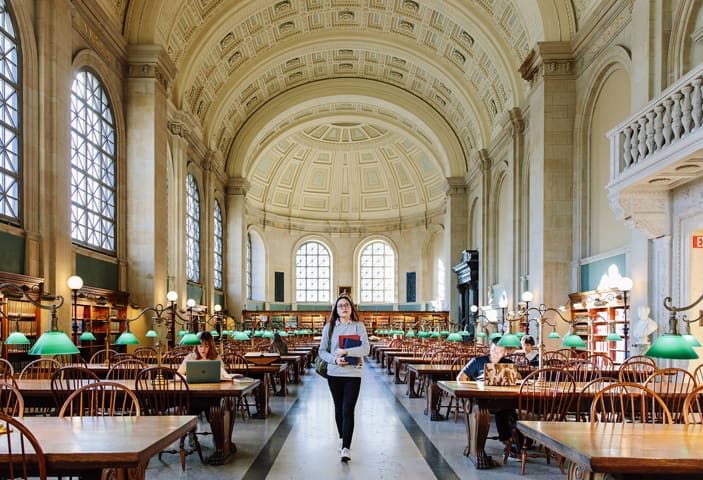 6. Take a tour around Boston Public Library in Copley Square
The Boston Public Library is one of Boston's most famous buildings. Join one of the free daily tours to learn about the architecture of its famous Central Library buildings as well as the art treasures inside, including works by Daniel Chester French and John Singer Sargent. Tours are led by trained volunteer guides and last approximately 1 hour.
7. Admire the art and architecture of Trinity Church
Just across the street from Boston Public Library is Trinity Church, another one of the city's most famous buildings. On Sundays, you can join a free after-service tour led by a highly skilled volunteer guide.

This is an excellent way to learn more about the art and architectural history of the church. If you can't wait for an in-person tour, you can watch a virtual tour of the church here.

For even more history and culture, you can pay a visit to Old South Church, just opposite the Public Library.
8. Visit North End, Boston's oldest residential community
If you're looking for some history, then head to the North End, where people have lived continuously since it was first settled in the 1630s.

The area is home to 6 of Boston's publicly accessible artworks, including the Benjamin Franklin Tablet, and statues of Christopher Columbus and Paul Revere. You can learn more about Paul Revere and the North End by visiting the Paul Revere House, where a college student ticket is just $5.50.
9. Celebrate St. Anthony's Feast
If you're in Boston in August, St. Anthony's Feast in the North End is a must. Each year, the people of North End honor their patrons St. Anthony and St. Lucy with parades, live singers, entertainment and amazing Italian and American food stalls. Stroll through the beautifully decorated neighborhoods, join in the festivities and sample some of the best street foods.
10. Wander around the picturesque South End — and take your camera
South End is the largest intact Victorian row house district in the United States, made up of over 300 acres. Walk down Tremont Street (often called Restaurant Row), then wander down side streets and pass pretty townhouses and parks that you'll want to post on your Instagram.

If you're in the area on a Sunday from May to October, you can also browse the SoWa open market, where you'll find stalls from local farmers and artisans, food trucks, musicians and more.
11. Explore the Underground at Ink Block
The Underground is 8 acres of a highway underpass between the South End and South Boston that's been transformed into an urban park with pedestrian boardwalks, food and beverages, shops, and bike paths. You can explore the area's wide range of eclectic street art that was specially added just for this spot.
12. Stroll along the Boston Harborwalk
Head to the Boston Harborwalk for stunning views of the Boston skyline, fascinating history, sculptures, memorials, museums and more.

If you need a break from walking, you can take some time out at the Charles River Esplanade, a beautiful green park with waterfront views. It's a great place for running, jogging and cycling, or simply for people-watching and soaking up the atmosphere. It's one of our favorite things to do in Boston on a budget.

13. Visit Harvard Square
Of course, one of the most famous areas in Boston is Harvard, home to the world-renowned university.

Take a stroll through the Harvard Yard, a 25-acre picturesque green space that's the oldest part of Harvard University, browse the books at the historic Harvard Book Store that's been operating since 1932, and visit the Harvard Art Museums. (Entry is free with any valid student ID card).

There are often free events going on Harvard Square, so it's worth checking the calendar before you visit to see what's happening. You can also attend free lectures, talks, concerts and more at many of the other universities in Boston.
14. Take a trip to the University of Connecticut
If you're looking for a fun weekend getaway, how about taking a trip to the University of Connecticut in New England?

The picturesque main campus in Storrs offers an intimate, small-town setting — yet it's just 90 minutes from Boston, and less than a 3-hour drive away from the buzz of New York City.

The University's ideal location between 2 cities means it provides countless job and internship opportunities. It's also a top-ranked public research university with excellent campus facilities.
Study in Boston
These are just some of the things to do in Boston on a budget — you'll find plenty more things to do in this lively and historic city. If you're interested in studying in Boston, the number 1 student city in the USA (QS Best Student Cities 2022), Kaplan can help you get there.

We work with Simmons University, a private liberal arts university in central Boston, to help international students enrol in a bachelor's degree. Use the degree finder below to find out what you can study.