At nearly 2,000 years old, York is full of fascinating historic attractions — there's so much to see and do! You don't have to spend a lot of money to have fun though, as you can just check out our list of the best things to do on a budget in York.
1. Do the White Rose York walking tour
Taking their name from the city's emblem, a white rose, White Rose York Tours offer a completely free 3-hour tour of the city. Visiting all of York's major landmarks, it will give you a great overview of the city and its history.

Tours run 1–2 times a day, depending on the time of year, and are available in both English and Spanish. It's up to you how much of the tour you do, but if you stay for the full 3 hours, it's customary to tip your guide.
2. Explore The Shambles
This pretty, medieval shopping street is the most famous one in York. Named the most picturesque street in Britain in the Google Street View awards, it is apparently the inspiration for Diagon Alley in the Harry Potter series!

The unusual name comes from when the street was home to many of York's butcher shops. The word "shamble" is thought to derive from the Old English word "sceamel" referring to the bench or table where meat and fish was displayed for sale.

Nowadays there are no butcher's shops on The Shambles. Instead you'll find independent shops selling handmade chocolate and fudge, jewellery and of course, lots of Harry Potter souvenirs.

It's free to walk around The Shambles, although you'll sadly have to pay for all that yummy fudge!
3. Enjoy a cup of tea at Betty's Tea Room
Everybody knows that British people love a good cup of tea. Why not live like a local and stop for a delicious hot drink at Betty's Tea Room?

This traditional tea room was founded in 1919, and it's the ideal place to stop for a drink and a snack after walking around York's historic city centre. You can choose from a selection of tasty teas at about £3-4 for a pot, or if you're hungry, order from the menu of sandwiches, salads and hot meals.

For about £20 you can even enjoy a traditional British Afternoon Tea, with a selection of sandwiches, cakes and tea, all served on a silver platter.
4. Visit the National Railway Museum
You could easily spend all day in the National Railway Museum, the world's largest railway collection. Among the 1 million items on display are the world's fastest steam engine, a replica of the pioneering "Rocket" train and the only bullet train outside of Japan.

You'll learn about hundreds of years of railway history, and find out more about the lives of the men and women who worked and travelled on Britain's historic railways. Entry to the museum is free, although donations are welcomed.
5. See the stained glass at York Minster
York Minster is one of the largest and most magnificent cathedrals in Europe. Although the stunning, gothic-style building was first completed in 1472, records show there has been a religious building on the same site since AD637.

As a result, there's a lot to explore inside the Minster. It's home to the largest collection of medieval stained glass in the UK — in fact, more than half of the stained glass in England is inside York Minster!

Look out for the magnificent west window as you walk around, and stop to admire the gargoyles and fantastic artworks like the Semaphore Saints. Donated to the Minster by the artist Terry Hamil in 2004, the figures are spelling out the secret message "Christ is here" through semaphore signals.

You can also explore the Chapter House, with its magnificent free-standing ceiling, and climb the Central Tower to look out over the city. All of this costs £14 for a student ticket, but it's free with a valid York student card!

Don't worry if you haven't started your course yet — worship at York Minster is free, so you can still visit to attend a service, light a votive candle, or pray.
6. Walk along the city walls
Many historic UK cities were once surrounded by defensive walls, and York is no exception. York's city walls were originally built by the Romans in AD71, and although they have been knocked down and rebuilt several times over the years, substantial parts of the walls remain.

In fact, York has more miles of intact medieval walls than any other English city! You can enter the walls though one of the "bars", or gatehouses, where you can climb the stairs to the top and walk along.

Walking the length of the walls takes about 2 hours, and you'll get some fantastic views of famous landmarks like the beautiful York Minster. It's also completely free, so it's a great way to spend a sunny afternoon!
7. Relax in Rowntree Park
York is full of open green spaces, including the fantastic Rowntree Park. This 20-acre park features a large lake, a canal, water fountains and many decorative statues.

There are plenty of places to sit and enjoy a picnic, and you can even play tennis or basketball on the park's courts. Make sure to also visit the Reading Café, an on-site café where you can enjoy drinks and hot food, and even borrow one of more than a thousand books, newspapers and magazines.
8. Admire the paintings in York Art Gallery
York Art Gallery is a public art gallery featuring paintings from the 14th century through to the modern day, as well as watercolours, drawings and ceramics. And it's all housed in a beautiful building dating back to 1879.

The gallery has more than 1,000 paintings and 17,000 drawings, watercolours and prints in its collections, including many works representing York itself. It also hosts frequent temporary exhibitions and events. A student ticket for York Art Gallery is only £5.60.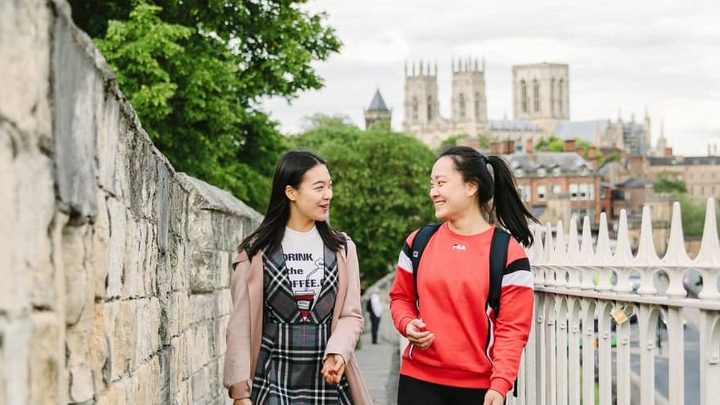 9. Learn about local history at the Yorkshire Museum
This beautiful museum houses 5 galleries featuring some of the best archaeological finds from the area, including objects from the Roman, Viking and medieval eras.

You can take a look at some of the rare animals and birds that have lived in Yorkshire over the centuries, and see fossils in the Jurassic World exhibition.

The Astronomy collection, meanwhile, features an observatory and what was once the largest telescope in the world. Like at the York Art Gallery, student tickets cost just £5.60.
10. Experience an exhibition at York St Mary's
York St Mary's is a beautiful 13th-century church that is now used as a contemporary art gallery. Every year it commissions a different artist to create an installation inside the church, or to display an existing work. Many of the artists featured have been from the local area.

The unique art space also holds regular events including lectures and film screenings and hosts exhibitions, such as 'Van Gogh: The Immersive Experience' which tells the story of the famous painter's life and works through projections, music and interactive experiences.

Student entry to York St Mary's is £11.
11. Or visit 4 attractions for the price of 1!
If you are interested in visiting York Art Gallery, the Yorkshire Museum and York St Mary's, you can save money by buying the Yorkshire Museum Trust (YMT) card!

The YMT card entitles you to unlimited entry to all 3, plus the fascinating York Castle Museum for just £12 a year when you pay by direct debit. That's just £1 more than the price of a single exhibition at York St Mary's, making this incredibly good value.
12. Wander through the snickelways
York is famous for its narrow footpaths and lanes, known locally as snickelways. The word snickelway comes from 3 historic words, snicket, ginnel and alleyway, which all refer to narrow passageways.

Exploring the snickelways is a great way to spend an afternoon, especially if you want to see a different side of York than you might on an official guided tour.

Since it won't cost you any money at all, it's one of the best things to do on a budget in York.
13. Have a drink at the Roman Bath
Enjoy a drink or meal along with an interactive history lesson at the Roman Bath pub. As the name suggests, this Tudor-style pub is built on the site of a Roman public bath house.

In Roman times, people didn't have washing facilities in their homes, so they would have to come to the bath house to have a bath! After you've enjoyed a drink or a bite to eat, you can head downstairs to see the remains of the Roman bath house, and learn more about Eboracum, the Roman settlement that became modern-day York.

Going downstairs to the ruins costs a very reasonable £3.50.
14. Step back in time at Fairfax House
If you've ever wondered what it would be like to live in a different century, you'll want to pay a visit to Fairfax House! This Georgian townhouse was designed by distinguished local architect John Carr in 18th century, as a home for Lord Fairfax.

The house has been carefully restored to exactly how it would have looked when Lord Fairfax lived there with his family, with all the furniture, paintings and clocks that were popular at the time, so you can see how a wealthy family in Georgian York lived.

Fairfax House also has regular special events and exhibitions, like a traditional Georgian Christmas celebration and a collection of the cutting-edge fashions of the period. These special events are usually included in the cost of a standard ticket, which for students is just £6!
15. Browse the markets
York has lots of traditional English markets, selling a little bit of everything, from flowers to fresh produce, street food, clothes and unique arts and crafts.

Shambles Market is the most famous and is held every day. However, there are also weekend markets on Parliament Street, and in December, a Christmas market where you can buy treats like mulled wine and gingerbread, as well as handmade ornaments and crafts.
16. Take a picnic to York Museum Gardens
York Museum Gardens features 10 acres of botanical gardens set around the ruins of the medieval St Mary's Abbey. There are colourful flowers, a fern garden, a story-telling corner and even a place where people can grow vegetables, herbs and other edible plants. Coming to the gardens is one of the most relaxing things to do on a budget in York.

It's a brilliant place to sit down with a picnic, particularly if you've been busy exploring the museum! It's also where you'll find Yorkshire's oldest working observatory, animals like squirrels, hedgehogs and foxes, and more than 40 species of birds.

Entrance to the gardens, and the observatory, is free.
17. Go to the Richard III and Henry VII Experiences
Although York has existed at least since Roman times, much of the architecture you'll see is medieval, so why not more learn about the period though the stories of some of its most famous kings?

You can learn all about the most turbulent time in York's history, known as the Wars of the Roses, at the Richard III Experience and the Henry VII Experience. Entrance to each experience is £3.50 for students, but it's well worth doing both — a joint ticket, known as a Medieval Pass, is only £6.

Both exhibitions are based inside one of York's famous "bars" or gatehouses, the official entrances to the city that the kings would have walked through, and where the heads of traitors were displayed on spikes. This gives you the opportunity to explore more of the city's ancient defences, making it even better value for money!

You'll find the Richard III Experience at Monk Bar, and the Henry VII Experience at Micklegate Bar.
18. Encounter the Vikings at the Jorvik Viking Centre
The Jorvik Centre is one of York's most famous attractions, and for good reason! It's one of the best things to do on a budget in York: here, you'll come face-to-face with real Vikings (well, people pretending very well to be Vikings), and learn all about life for the residents of York more than 1,000 years ago!

Jorvik is known as a 'must-see' attraction in York, and has welcomed 18 million people in the last 30 years! Get your student ticket for only £10.50.
19. See a different side of York with a sightseeing cruise
Seeing a city from the water can really change your perspective. Take a sightseeing cruise along the scenic River Ouse and experience York from a whole new way.

Your knowledgeable guide will tell you all about what you are seeing, and you may even discover some things you didn't know existed! You can get a student ticket for £8.50.
20. Attend a theme festival
York is a lively city, where something is always happening — sometimes all you need to do is stroll around the city centre until you stumble on something exciting!

Just one feature of York is the many themed festivals it holds throughout the year. You can enjoy all the festivities of the Viking Festival in February, before stepping back even further in time for the Roman Festival in June.

Fossgate, York's popular independent shopping street hosts Fossgate Festival though the summer months, and in December you can enjoy the Ice Trail, when ambitious ice sculptures are displayed throughout the city.

All of these festivals have free activities you can enjoy, from music and dancing to historic reconstructions, and all the sculptures in the Ice Trail are free to visit too. Don't forget to also visit the St Nicholas fair to stock up on Christmas treats at the market!
Study in York
These are just some of the things to do on a budget in York — the city has so much more to offer. If you're interested in studying in this fantastic, student-friendly city, Kaplan can help.

We work with the prestigious Russell Group member the University of York to help international students enrol on a York degree. You can click on the links below to find out more, or use the handy degree finder to see what you can study.