York is a vibrant city with a fascinating history. With its medieval lanes, bell towers, shopping streets, and other attractions, there are lots of ways you can make the most out of living here! Here are my top five tips for living in York as an international student.
1. Get yourself a pair of comfy trainers and be ready to walk around
Compared to other cities in the UK, York is a relatively small place, and it takes less than an hour to travel anywhere by foot. This is very convenient, especially for students like me who use public transport or prefer to walk around the city.

I like walking because after a day of studying, there's nothing more relaxing than walking home with friends and watching the sun set. I also prefer to listen to music when I'm walking because it makes me feel great! Whichever way you choose to travel, you'll be able to take in breathtaking views, including from the medieval city walls in York.
2. Try everything
According to research, there are more than 365 pubs in York! You can make the most of this by visiting different pubs and trying new food with friends from time to time.

If pubs aren't your thing, don't worry — there are a variety of shops and places to explore in York. For example, you can discover what life was like in the 10th century by visiting the Jorvik Viking Centre or walk around York's famous Shambles for shopping.

York is the perfect place to explore and discover hidden gems too! Get some friends together and start exploring what this stunning city has to offer. My friends and I have an 'arrangement' together where we visit a new restaurant every week. The good food and beautiful locations continue to take us by surprise!
3. Know your bargains
Living in a new place can be expensive so it's important to do your research and keep an eye out for any sales, offers, and bargains.

Generally, pubs, restaurants and retailers offer student discounts and have rewards schemes which allow you to pay less than the original price! For example, Turtle Bay offer 2 for 1 cocktails all week long, Pizza Express offer 30% off for students and JD Sports offer a 20% student discount. Finding discounts means you can explore the streets of York and save money at the same time!
4. Cycle smart, cycle safe
As an alternative to walking, cycling is a popular choice for many people in York. This is because York has a wide network of cycle paths and lanes for cyclists of all ages and abilities to enjoy. For example, you can take a bike ride to Neptune, Walmgate Stray and from York Minster to Millennium Bridge. These are easy bike rides and great for any fitness level!

If you decide to cycle, lock your bike afterwards so you have nothing to worry about. Find your perfect York bike ride today and enjoy!
5. Be a tourist for a day
The city of York contains so much wonder! From the famous Shambles to the Minster, you can take a break from your studies and be a tourist for a day. As an international student, you should make the most of your time here by exploring the city and making lifelong memories with your friends.

Student life means working hard and having fun, so don't be afraid to go out there and experience what York has to offer!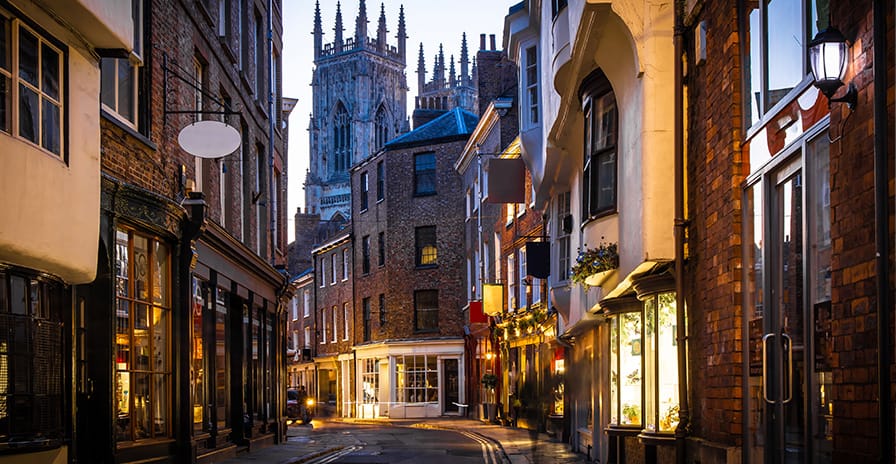 How can you study abroad in York?
Kaplan can help you study at the University of York and give you the opportunity to explore the wonderful city of York as an international student. To learn more about living and studying in York, get in touch with their friendly advisors who are happy to help.