Hi, everyone! My name is Portia and I'm from Malawi. I'm at Nottingham Trent International College (NTIC) studying a Foundation Certificate in Business, Law and Social Sciences.

I'm delighted that I took the opportunity to study at NTIC. I want to share my experience with you and tell you why I love being an international student at the College!
My experience as a student at NTIC
I was drawn to Nottingham Trent International College because of its inclusivity. Students and staff at the College are from all walks of life. I have been able to explore many things, including different cultures, languages, food and experiences.

Throughout my time at the International College, I have received a lot of support from staff. They have helped me settle in, answer any questions, resolve issues, and make new friends by organising a variety of fun activities and games with my classmates. Everyone is friendly and I feel so positive being here.
Great opportunities, activities and facilities
The International College has given me the opportunity to make new friends from across the world! This has made me realise that you can make friends in a new country — you just have to approach people and introduce yourself. The smallest gesture can go a long way and lead to beautiful friendships, so don't be afraid to put yourself out there!

There are many fun activities and events that students at the College can get involved with. For example, we've celebrated the Chinese New Year, Halloween, and Diwali. It's been so nice learning about the different holidays.
The College also has an Activity Day where students can win prizes and show off their talent. This has helped me learn about different backgrounds, traditions and customs. It's been very insightful!

Another thing that drew me to the College was the excellent facilities. For example, there's lots of space where students can hang out, study or read. There are also shops, vending machines and water dispensers situated around the College that you can access whenever you're feeling hungry or thirsty. It's super convenient and helpful.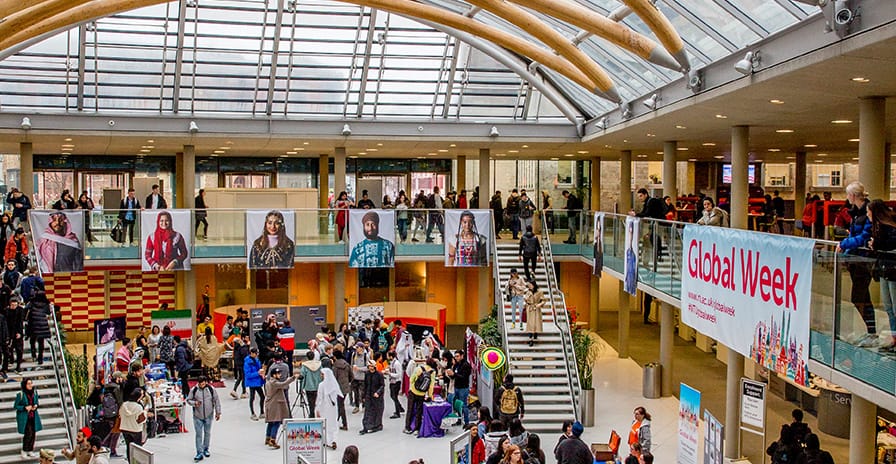 Nottingham is a student-friendly city
Nottingham is a friendly city with many students and plenty to do with your friends! There are several hidden gems — from the cosiest cafés to diverse restaurants with the most heart-warming food. You can also visit historical attractions like Nottingham Castle, browse the high street and independent shops, or have fun at bowling, karaoke and laser tag.

You will never get bored in Nottingham! It's a great city to pursue your studies and have fun.
Study in Nottingham
Prepare for an exciting future with a pathway course at Nottingham Trent International College. With high-quality teaching, excellent facilities and remarkable support, you will have everything you need to succeed in your studies and beyond.

You can learn more by speaking to one of our friendly Education Advisors.