Along with its reputation for high-quality teaching and groundbreaking research, the University of York sits next to one of Europe's oldest and most beautiful cities. From modern music venues and cocktail bars to cobblestone alleys and cathedrals dating back nearly 1,000 years, York has something for everyone.

Keep reading to learn more about why the University of York attracts students from around the world.
Superb rankings for various subjects
A member of the prestigious Russell Group, the University of York enjoys excellent rankings in a variety of subject areas, as well as being ranked top 20 in the UK overall (Complete University Guide 2023).

It ranks 6th in the UK for Biological Sciences, 7th for Chemistry, 5th for Film Production and Media Studies (Times and Sunday Times Good University Guide 2023), and sits in the top 20 in the UK for Computer Science (Guardian University Guide 2023).

The Film department has its own purpose-built media complex worth £30 million, offering you the chance to play an extremely hands-on role in all kinds of collaborative projects. You'll have access to two theatres, two television studios, a digital cinema, and an interactive design lab — giving you the ideal platform to gain industry experience and launch your career.  

With so many excellent rankings across many disciplines, you can rest assured that whatever you choose to study, you'll gain a rewarding education at the University of York.
Historic city
The city of York is like no other in the UK. Surrounded by ancient walls that were built in Roman times, York is famous for having some of the best-preserved ancient architecture in Europe. This includes its incredible Minster — the largest medieval cathedral in Northern Europe at 72 metres tall. There has been a church on this site since 627, with the current building dating back to the 13th century.

There is also the 'Shambles', one of the oldest shopping streets in Europe. Since the 13th century, it has been home to a range of independent shops. The narrow, cobbled road, wooden shop fronts, and overhanging buildings make it feel like you've travelled back in time. The street is even thought to have been the inspiration behind Diagon Alley from the Harry Potter series.

York is packed with history and culture. You can drink at a pub founded in 1644, enjoy classic English tea at Betty's, and visit a Viking Museum — all in one afternoon! While being historic, it is also a modern metropolitan area, with plenty of live music and fashionable new bars and restaurants to choose from.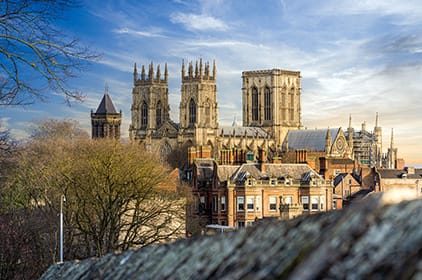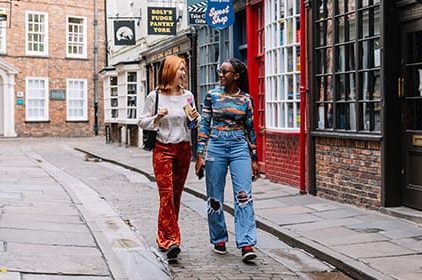 High-quality research
The University of York is known for its wide-ranging, in-depth research across many fields, ranking in the top 10 for research quality in the UK (Complete University Guide 2023). The University has a long track record of conducting research that delivers effective solutions in response to changing economic and global challenges.

For instance, the University is a leader when it comes to researching robotics and Artificial Intelligence. These technologies are quickly becoming established parts of our daily lives, and the University is at the forefront of efforts to test and ensure the safety of robotics, its software, communications, and connected autonomous systems.

York also plays a key role in the field of biotechnology through its partnership with BioYorkshire. Using the University's world-class science research capabilities, the project is responding to the climate crisis through delivering eco-friendly chemicals, materials, and fuels, alongside helping the area reach net-zero food production.
Modern facilities on a beautiful campus
York is also known for its award-winning modern facilities for research, media, sports, and accommodation.

Heslington East is the latest major development of facilities on York's campus. Costing a total of £200 million, the 116-hectare site includes a cluster of four academic buildings, three colleges with a total of 1,865 bedrooms, numerous social spaces, a new lake, and a sports village that offers an Olympic-sized velodrome and competition-standard swimming pool.

In addition to its excellent facilities, you can expect to be blown away by the beauty of York's campus. The area is surrounded by over 200 acres of parkland. There's also numerous large lakes and an abundance of wildfowl and other wildlife — including a famously tall duck often seen around campus, known as "Long Boi". He has over 50,000 followers on Instagram!
Great transport links
York is also an extremely well-connected city with great rail links, making it easy to enjoy trips to different parts of the country and visit friends at other universities. The city is a one-hour train journey to Manchester and Newcastle, as well as just two hours to London by direct train, and only two and a half hours to Edinburgh in Scotland.

And if you like countryside as well as cities, you're in luck. York is situated close to the spectacular scenery of the Yorkshire countryside, which is very convenient for trips to the breathtaking Peak District and Lake District National Parks.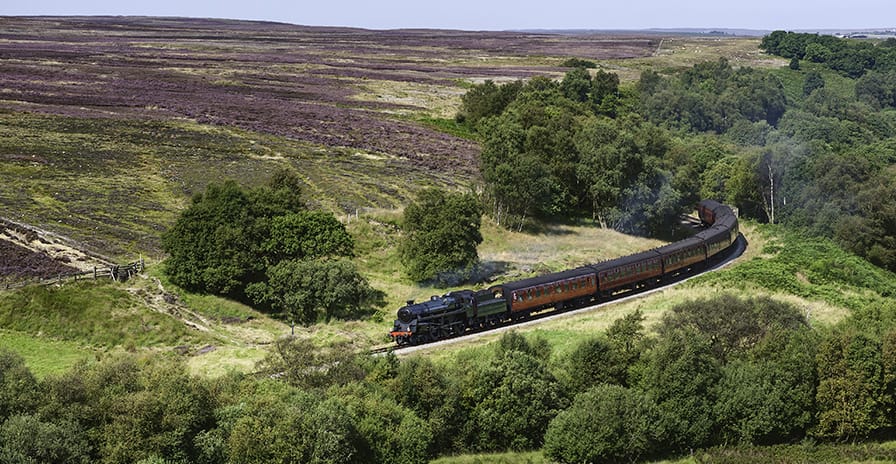 Apply to study at the University of York
Through Kaplan Pathways, you can access more than 200 degrees at the University of York and join its community of 20,000 students from over 150 countries.

As an international student, you can apply to a degree preparation course that helps you improve your academic skills and English language level, so you meet the requirements for your chosen degree at York. This includes options for studying a bachelor's or master's degree.

You can study your course on campus at the University of York International Pathway College. This will give you the chance to make friends and familiarise yourself with the area before starting your degree.