Why getting out in nature is important for your mental health
The University of York's campus is beautiful, and home to lots of wildlife too.

As a student, being near such natural beauty in and around campus can be extremely beneficial for your mental health.
Why nature matters for mental health
Research shows that regular contact with nature can help your mental health. For example, one study concluded that spending 120 minutes outside every week leads to improved wellbeing (Nature.com).

Living in York, students can enjoy a range of green spaces, along with large lakes and an abundance of wildlife, such as swans and geese. International students like Ruxuan from Hong Kong find that the wildlife on campus helps with their wellbeing:
Sustainability on campus
There are various student societies for sustainability at York, such as the Green Party and People and Planet societies. You can connect with other like-minded individuals who are passionate about nature and sustainability!

York has been a Green Flag campus since 2013, maintaining the benchmark for publicly accessible parks and green spaces for a decade. The International Pathway College even won the Green Impact Award in 2021, which recognises eco-friendly action by staff and students within organisations across the globe.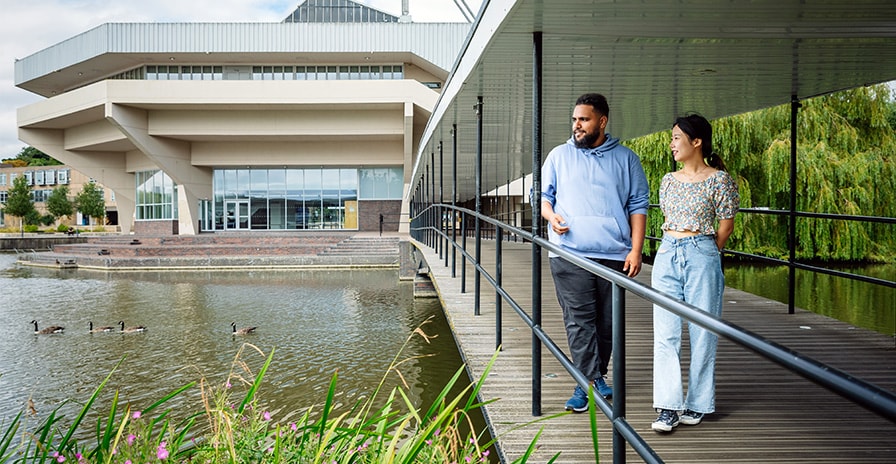 Top ways to enjoy nature and look after your mental health in York
1. Visit parks
With a total of 15 parks in the city, York has the most parks per 100,000 people in the UK (Blacks). You could visit the popular Rowntree Park, located right next to the River Ouse, or take a walk through the stunning Museum Gardens. No matter where you live, you'll most likely be within walking distance of beautiful green spaces while studying in York!
"The nature in York is really beautiful and helps me relax. My favourite location in York is one of the paths along the River Ouse."— Sanako from Japan
Share this quote
2. Take a weekend trip
As well as exploring scenic parks, you can also take trips to stunning green spaces beyond York's city walls. Why not visit the famous Lake District, England's largest National Park, the Yorkshire Dales, or the Breeze Knees Gardens — all of which offer spectacular views!
3. Take up a new hobby or outdoor activity
At York, you'll have so many opportunities to spend time outdoors through a variety of clubs and activities. This may include gardening, foraging, birdwatching, or simply going for a walk. You can also connect with nature through the University's Student Sustainability Opportunities Hub and take advantage of a range of internships and volunteering projects.
4. Switch up your morning commute
If you get the bus to campus, try walking every now and again. You could pass lakes, trees, fields, and all kinds of wildlife on your way to classes, which can have a positive effect on your day and mood. York is also a great place to cycle, with designated cycle lanes located all around campus and the wider city.
Support available for your mental health
While making the most of the green spaces in and around York is a great way to take care of your wellbeing, you can also access comprehensive mental health resources if you need them.

For example, you can make use of the University's support, wellbeing and health services. It also may be helpful to check out the specific support available for international students on campus. York Mind is another local provider that helps students with their mental health.

Remember, there are various kinds of mental health support you can access in York. Help will always be available when you need it.