When you're researching your study options, you may find people referring to "campus universities" and "city universities". But what is the difference and how do you choose between the two?
What is a campus university?
A campus university refers to one where most university-owned buildings, like lecture theatres, residence halls and social facilities, are all in the same place. It can be like a small town — the University of Essex, for example, even has its own cinema and hair salon on campus!

Sometimes a university will have two or more campuses, but in this case, each one will have a range of buildings and facilities for students grouped together. The campuses will usually be 'closed', meaning there are only facilities for students and university staff, not for the general public.

The University of Connecticut in the USA is a great example of a campus university — its beautiful main campus at Storrs has an array of academic and social facilities for students, as well as on-campus housing.

Although they are different from city universities, a campus university can still be based in a city (as well as a town, or village, etc.). For instance, the University of Birmingham, a campus university, is based in Birmingham, the second largest city in the UK. Plus, it's less than 10 minutes by train to the city centre from the University's own railway station!

What is a city university?
A city university has just as many great facilities as a campus university, but they are usually spread over a larger distance, or in a mixed commercial area, such as the city centre, where there are office blocks and facilities for the general public too.

This means that instead of having everything in one or two areas, different facilities are in different places. These could be very close to each other or they could be a short bus ride apart. A city university may still have campuses, but they usually refer to an area of the city, rather than a closed campus that is just for students and university staff.

The prestigious University of Bristol is a good demonstration of a city university. It has many buildings and facilities throughout the city centre as part of its Clifton campus, as well as some locations in different areas of the city, such as the new Temple Quarter development.

To help you picture this, you can look at this handy map on the University's website.

Over in the USA, Pace University's New York City campus is based right in the heart of Manhattan, so you'll be living and studying in a hub of activity, surrounded by inspiring, successful people and businesses!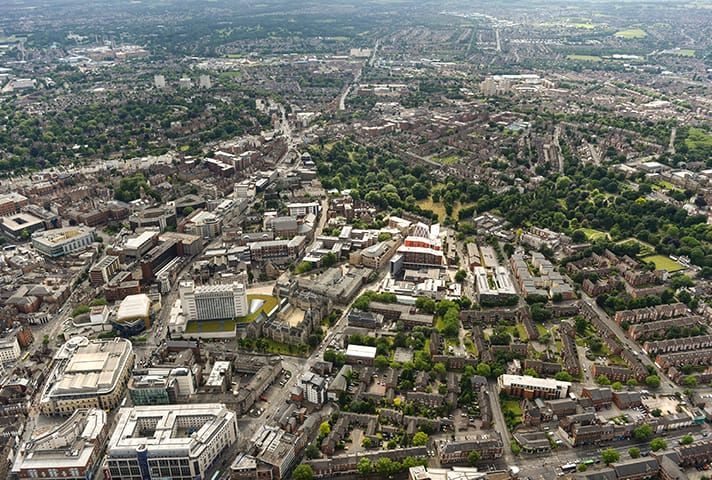 How do I choose? Which is better for me?
Neither type of university is better than the other — both have different benefits. Which one is right for you will depend on your personal preferences and priorities. To help you decide we've compiled some of the benefits of each.
Benefits of a campus university
Community feeling — with so many facilities and students in the same place, a campus university can offer a friendly community feeling.

Convenient — campus universities have everything you need, from supermarkets to nightclubs, all in once place. You might never need to leave!

Quiet — on-campus accommodation is usually away from busy main roads and the city centre, so you can enjoy some quiet time.
Benefits of a city university
Atmosphere — if you enjoy the hustle and bustle of the city and the feeling of being in the centre of things, you might thrive at a city university.

Choice — in the city, you'll be surrounded by shops, restaurants and transport links, and be able to choose which neighbourhood to live in, offering more choice than a campus university.

Independence — studying at a city university gives you more opportunity to travel and explore. You'll soon be an expert at navigating the city and using public transport, helping you to feel more independent.

A great way to decide is to visit both a campus and a city university and see which one you prefer the feel of, and speak to students about their experience. Even if you can't visit in person, many universities offer virtual tours and have a live chat function that lets you talk to current students online.
Study at a campus university or a city university in the UK or USA
Kaplan can help you gain entry to an undergraduate or postgraduate degree at a top US or UK university.

If you don't meet the entry requirements for your chosen university or degree, you can study a pathway course. This is a university preparation course for international students that helps you raise your English language level and get ready degree-level study. If you pass the course at the required level, you're guaranteed entry to your first-choice degree!

Alternatively, for students who already hold the required grades, we can guide you through the application process, making sure you have all the right documents and stay on track with important deadlines.

We work with both campus and city universities, so whichever you prefer, we have an option for you. Check out your university options below, or use the degree button below to search for your subject and see where you can study with us.