Being a student isn't easy. You've got to adapt to living independently, make sure you're studying enough, and try to manage your budget carefully.

If you're an international student, this last point can be even more complicated. You might find the currency strange, and be unsure of what different items should cost. But don't worry — you will get used to it!

To help you manage your finances a bit better, we've compiled a handy list of tips on how to save money as a student.
1. Use your student card
The single most important tip on this list of how to save money as a student is to make the most of your student card. It can give you big discounts on on many popular brands, so you'll be able to save money on everything from clothing to restaurant food! There are different versions of the student card system in the UK, the USA and Australia.
2. Set a budget
It's always important to set yourself a budget to keep your spending under control. It's easy to start spending more than you should if you're not keeping to a budget, so work out what you should be spending each month and try to stick to it.
3. Make the most of special offers
When doing your food shopping, don't forget to look out for special offers. Whether it's multipacks of crisps, toilet paper, bottles of wine or olive oil, there's almost always something on special offer or heavily discounted. Who can say no to 50% off?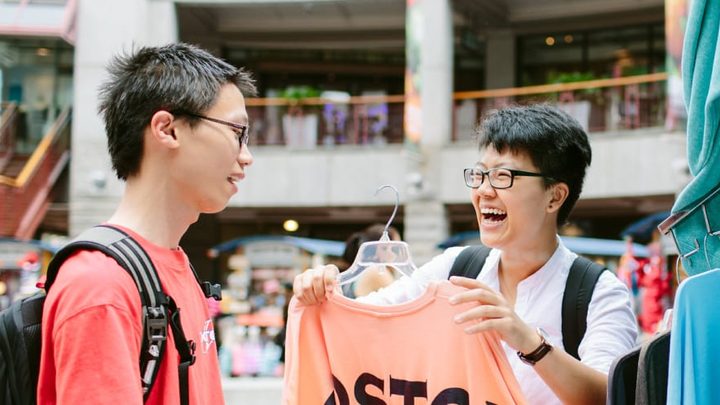 4. Buy second-hand
Often buying something brand new is unnecessary when there are plenty of options to get it a lot cheaper second-hand! Whether you go to a car boot sale, visit eBay or head to a second-hand shop, you can find some great bargains if you keep an open mind.
5. Go thrift shopping
Similarly, thrift (or charity) shops are a great way to save money as a student, and you can pick up everything from jackets to classic novels cheaply. You'll be surprised at some of the things you can find in thrift shops, and you'll feel good knowing that your money is going to charity!
6. Cook with friends
Instead of just cooking for yourself all the time, why not take it in turns with friends to cook for a group? This is a lot more cost-effective, and a lot more fun. After all, you'll get to try different food, especially if you have friends from other parts of the world.
7. Use the library
It may seem obvious, but the library is a great way to read for free. You can avoid buying some of your less essential course books if your library stocks them, and, if you're just looking for an interesting book to read for fun, the library should always be the first place you look.
8. Put money aside
Each time you get a big sum of money, take some out – maybe about 10% – and put it to one side. Put it somewhere safe and sensible, such as a savings account, and you'll have an emergency fund for a rainy day, or tickets to that festival you want to go to.
9. Shop around
When making big purchases, always check to see where has the best prices. This applies to everything from gas and electricity suppliers to gadgets and technology. Price comparison websites can be a big help. For example, if you want to travel, use Skyscanner to find the cheapest flights!