Simmons University is a private, liberal arts university located in the heart of Boston with a top 140 US university ranking (U.S. News & World Report 2022). At Simmons, you'll benefit from a women-centered bachelor's degree education, a fully customizable curriculum, work experience opportunities and more.

Here are 8 reasons why you should choose to study at Simmons University.
1. It has a long history of preparing women leaders
Founded in 1899, Simmons University was established to provide women with a meaningful education and professional work experience. It's a women-focused university at undergraduate level, and has an impressive record of training female students to become leaders in their chosen fields. Graduates of women-centered universities like Simmons progress to become high achievers in their careers and beyond.
91% of Simmons graduates are employed or in further studies
20% of women in US Congress are graduates of women's colleges or universities
81% of graduates from women's colleges or universities earn a master's degree or PhD
33% of the women on the boards of Fortune 1000 companies are graduates of women's – colleges or universities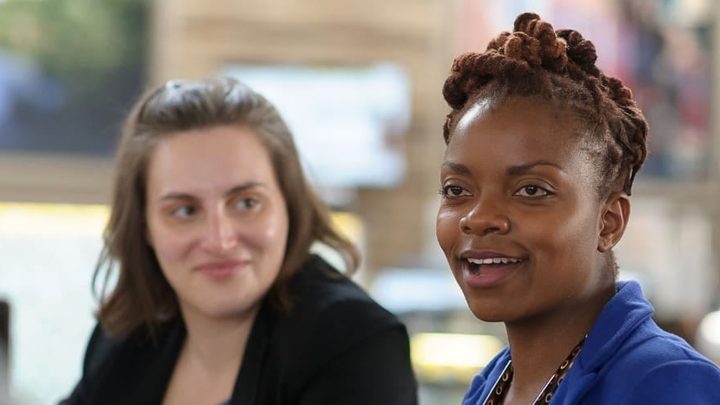 2. It has a supportive academic community
Simmons has a small, close-knit campus community with just over 1,750 undergraduate students in total. Its small class sizes with an average of 8 students per 1 member of staff mean that you'll benefit from a personal approach to learning, with lots of support from your tutors.

The university provides a state-of-the-art learning experience that was rated 37th in the USA by QS World University Rankings 2021. Friendly staff can direct you to a range of both academic and non-academic support services to help and inspire you including the:
Center for Student Success
Multicultural Center
Counseling Center
Health Center
Technology Support Center
Simmons Interfaith Team
3. It offers a fully customizable curriculum
At Simmons, you can create your ideal educational experience with interdisciplinary modules across a range of subjects. With over 50 different majors to choose from, you'll be able to find the one that's perfect for you.

You can even cross-register for courses through Colleges of the Fenway, a group of 5 colleges located in Boston's popular Fenway area. Students at each college can attend classes at any of the other Fenway colleges, giving you access to 2,300 courses at no additional cost. The other 4 institutions are:
Emmanuel College
Massachusetts College of Art and Design
MCPHS University
Wentworth Institute of Technology
The Colleges of the Fenway have a collective student body of over 12,000, making it easy for you to meet new people and make new friends. You'll also have opportunities to take part in intramural sports, where you can compete against other teams from within the Colleges of the Fenway.

If you're not into sports, there are plenty of other activities you can try. You can get involved in theater and performing arts events at all 5 colleges, as well as nearly 100 different clubs and societies.

Simmons University also provides students with an opportunity to gain a dual-degree in Engineering with Columbia University. You'll graduate with 2 bachelor's degrees: a Bachelor of Science from Simmons and a Bachelor of Science in Engineering from Columbia.

This 5-year dual-degree program combines the small and supportive academic environment at Simmons University with the world-class Ivy League education of Columbia University, giving you great career opportunities in STEM.
4. There's an opportunity to gain a scholarship when you apply through Kaplan
Female students who apply to Simmons University through Kaplan are offered a 50% tuition scholarship at the point of admission to a bachelor's degree. The scholarship is renewable every year for 4 years, totalling $80,000 for the full 4 years.

To apply, you can either record a video or write an essay describing your interest in women's leadership, and submit it with your Simmons University application.
5. There are lots of chances to gain real-world experience
At Simmons, you'll build your confidence and employability skills both in and outside of the classroom. You'll be encouraged to contribute to discussions and manage group projects, which are key skills that companies seek in potential employees.

Simmons also has an excellent reputation of partnering with employers, including over 450 clinics and hospitals. Every undergraduate student at Simmons completes at least one internship, research, clinical, fieldwork or other similar experience, where you'll be able to put the skills you've learned in classes into practice.

Simmons graduates have gone on to work for many major businesses and organizations including: Amazon, Dell, Massachusetts General Hospital, Tripadvisor, Walt Disney World and more.
6. It's ideally located in the heart of Boston, the USA's #1 student city
Simmons' campus is in the heart of Boston's lively Fenway and Longwood Medical communities, and it's just a 25-minute subway ride to Downtown. The neighborhood is home to museums, theaters, parks, restaurants, and the legendary Fenway Park, so there's lots to explore.

The campus is also close to the beautiful Back Bay area, where you can go cycling and running in its lovely green parks, admire some of the country's best-preserved 19th century architecture, and also find some of the best shopping in Boston.

If you're on a tight budget, you can still find plenty of fun activities to do in Boston. There are many picturesque neighborhoods, museums and galleries you can visit for free.
7. It provides affordable campus housing
You can make a huge saving by living on campus. While the average monthly rent in Boston is $3,400, on-campus residence hall accommodation at Simmons (including a meal plan) costs around $1,555 per month. The meal plan gives you access to 5 different dining locations that cater for a wide range of dietary needs including vegan, vegetarian and gluten-free.

The Simmons Residence Campus is conveniently located close to the main campus, as well as the Bartol Dining Hall, the Holmes Sports Center and the campus health center.

As a first-year student, you'll share with other first-year roommates, usually in double or triple rooms, which is a great way to make new friends. You can also join the Residence Campus' theme communities, which bring students with common interests together, making it easy to get to know likeminded people.

Theme communities you can join include the Sports Pride Floor, the Foodie Floor, the Arts Floor and more.
8. There's a wide variety of student clubs to join
Simmons has over 80 clubs and organizations that you can get involved in. Joining a student club is a great way to meet people with similar interests and make new friends. Clubs you can join include (but are not limited to):
Asian Students Association
Black Student Organization
Model UN
Multicultural International Student Organization
Simmons Islamic Society
Simmons University Dance Company
If you can't find something you're interested in, you can always start your own!
Interested in studying at Simmons University?
At Simmons, you'll gain a fantastic education and enjoy an exciting student life in Boston. From a supportive academic community to fun student clubs and organizations, there are so many reasons to choose Simmons University.

Below you can find out more about the degrees you can study at Simmons University, or you can speak to an adviser about your study options, or apply.