If you're looking to study in a place that is full of adventure, history and culture, Scotland is a fantastic choice. Read on to find out more about some of best reasons to study in Scotland.
1. Progressive and welcoming
Scotland celebrates its national culture, but it's also well-known for welcoming people from all over the world. It enjoys new cultures and is forward thinking when it comes to equality and diversity.
Scotland is a popular destination for students from around the world, with people from 180 different countries choosing to study there every year (Scotland.org). It's a very friendly and social place!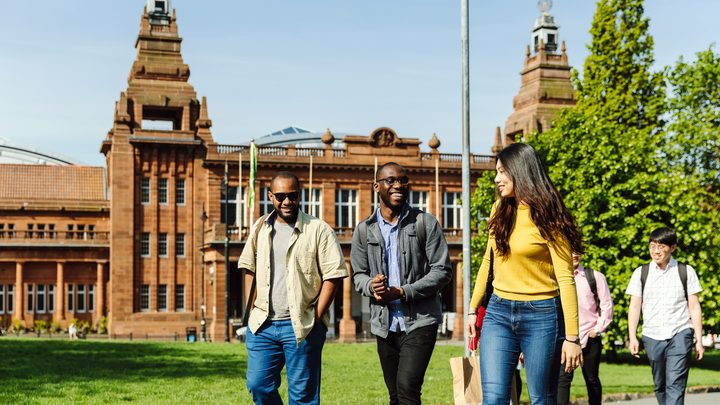 2. Adventure in the great outdoors
Scotland has beautiful landscapes and coasts for you to explore. If you like being active and getting out into nature, you can walk, hike, cycle or sail your way around some of the prettiest parts of the country. Depending on where you visit, you might even see some of the local wildlife, including whales, seals and puffins.
Scotland is also home to the UK's biggest national park: Cairngorms National Park. And don't forget to visit the famous Loch Lomond or Loch Ness!
3. Great education and student lifestyle in the great outdoors
Scotland has some of the best — and oldest — universities in the UK.
For example, the University of Glasgow is the fourth-oldest university in the English-speaking world. The University ranks top 10 in the UK (Times Higher Education World University Rankings 2024) and top 80 in the world (QS World University Rankings 2024).
There's a strong student community across the country. Glasgow, which is Scotland's largest city, and Edinburgh are in the top 50 best student cities in the world (QS Best Student Cities 2024). Cities in Scotland are also generally cheaper to live in than some other cities in the UK (Scotland.org), and you can travel by bus for free if you're under 22!
4. A lively arts and culture scene
From literature to music to theatre, Scotland has always been a world leader in the arts.
Scotland hosts over 350 festivals each year, including the TRNSMT music festival and the Edinburgh Festival Fringe (Scotland.org). Glasgow is a UNESCO City of Music and has fantastic music venues. You can enjoy concerts across the city every week.
To really get to know Scottish culture, you could also take part in some traditional Scottish events, such as Burns Night, which celebrates Scottish poet Robert Burns, or Hogmanay, which is a festival celebrating New Year's Eve in Scotland.
5. Visit film locations
From its city skylines to the stunning natural beauty of the Highlands, Scotland has been the setting for some of the world's biggest films and TV shows. You could take a train over the Glenfinnan Viaduct like the students in Harry Potter or head to Glasgow to visit locations included in films such as 2022's The Batman.
Apply to study abroad in Scotland
We're partnered with the University of Glasgow, so if you're interested in studying abroad in Scotland, Kaplan can help you get there.
If you'd like to study for a bachelor's degree at the University but don't meet the entry requirements, taking a Foundation Certificate will help you reach the level you need to start your degree.
If you want to study for a master's at the University of Glasgow but don't meet the entry requirements, a Pre-Master's can help you get onto your chosen master's degree.
You can study for your Foundation Certificate or Pre-Master's at Glasgow International College. The College is on campus at the University, so you'll experience student life in Glasgow from your first day.
To find out more, get in touch with us. One of our Education Advisors will get back to you to help get you started on your journey towards studying at a university abroad.