Hi, I'm Natalie from Malaysia and I'm studying Law at the University of Nottingham. If you're thinking about studying abroad here then you might be wondering 'What is it like to be an international student in Nottingham?', so I'm going to tell you a little bit about my experience and why I love this city.
The city offers the best of both worlds
I chose to study in Nottingham for quite a number of reasons — most of them quite specific! I wanted to live and study in an area that was quiet and peaceful but, at the same time, still had the elements of a bustling city life. So, personally, I feel like I hit the jackpot with Nottingham in terms of the location I wanted for my university life.

It is extremely affordable to live in Nottingham compared to other cities and you'll never run out of opportunities, whether it's for work or just to travel.

I think what makes Nottingham stand out is how the buildings look and the history behind them. One of my favourite buildings is a pub called Ye Olde Trip to Jerusalem — some people say it's the oldest inn in England!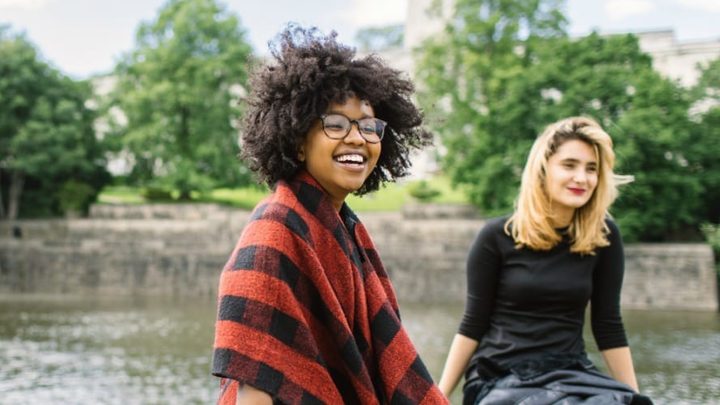 Expect the unexpected
Two things come to mind when I think about what surprised me about being an international student in Nottingham.

The first is underrated in my opinion, and it's the incredible amount of support I received from the University and the International College. The second is the wide range of communities that you can join — the most surprising one for me was definitely the Dog Walking Society!

The things I love most about being an international student in Nottingham are the unexpected opportunities and the people you meet. I learn something new every day and it honestly amazes me. It might be something small like learning how to buy a ticket for the tram, or something bigger like meeting people and experiencing new cultures.
International student life in Nottingham
I am currently studying a degree in law. I'll admit that I originally chose this subject because I enjoy reading, writing and challenging myself with new knowledge, so I figured law would be the best option! As I head into my final year, I am honestly glad I picked law as my major because I would not want it any other way!
Studying abroad can be a stressful process so my advice if you're thinking about becoming an international student in Nottingham, or anywhere, is that you take frequent breaks and reflect. The best time to do this is the moment you start to feel overwhelmed. You can write down all of your thoughts and look back on them when you are taking your break.

My second suggestion would definitely be to trust your gut. I completely understand that it can be a terrifying experience to be so out of your comfort zone, but trust me on this, the knowledge and experience you gain will be invaluable!