The USA and the UK are two of the world's top destinations for international students. Both countries have a lot to offer, but their education systems are very distinct. So, what are the differences and which one is right for you?
When you choose your degree subject
One key difference between the US and UK higher education systems is at what point you choose your degree subject. In the UK, you must decide what you want to study when you apply. For example, you don't simply apply to study at the University of York, but you apply to study Business or Law at the University of York.

There is some flexibility to change your subject, but you'll typically need to do so within your first semester. All of your classes will be related to your degree subject.

By contrast, in the USA, you have until the end of your second year of undergraduate study to declare a major (the subject your degree will be in). Instead, you will study a core curriculum of arts, humanities and science classes, alongside the subjects of your choosing.

This allows you to explore various disciplines and find which one suits you best before you choose your major.
Duration of study
Another big difference is how long your degree will take. The broad range of subjects you will study at a US university means your degree will take longer to complete.

Typically, a bachelor's degree in the USA takes 4 years, versus 3 years in the UK. Similarly, UK master's degrees usually last for 1 year, while US master's programmes commonly take 2 years.

Each system has its merits. If you aren't certain yet what you'd like to study, and you don't have any time constraints, the flexibility of the US system may suit you best. However, if you know what subject interests you most and don't want to lose any time, or aren't interested in studying other topics, you might want to pick a UK university.
Cost of degrees
The price of a degree is a major factor for many students when deciding where to study. Wherever you choose to study, tuition fees will be a significant investment, but typical costs do vary between countries.

For example, the tuition fees for home students in the UK are capped at £9,000 per year. While there are no such restrictions on how much international students can pay, the average is between £10,000 and £20,000 a year.

In the USA, costs vary widely between universities, but international students can expect to pay $25,000–$45,000 a year to study a bachelor's degree at a public university, and up to $55,000 a year or more at some private institutions.

The length of your degree also plays a factor in the cost. Since US degrees typically take one year longer than their UK counterparts, you will need to factor another year of study into your budget.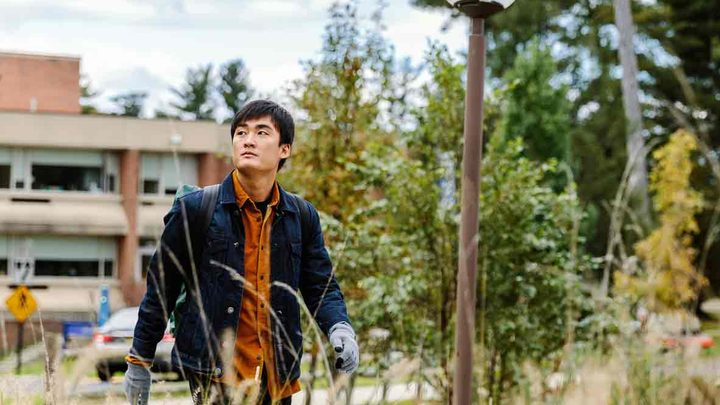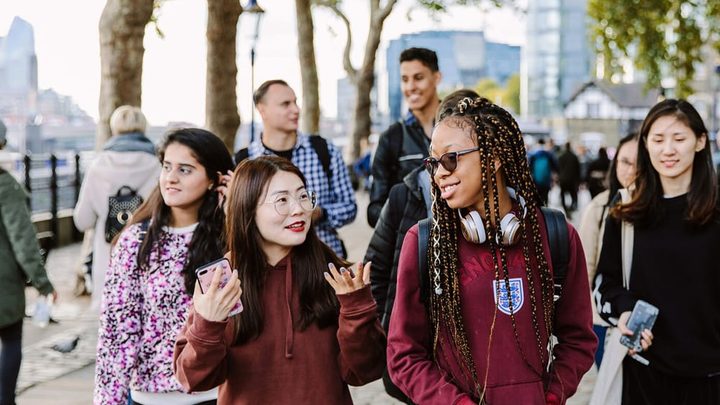 Teaching and assessment style
Another thing that varies between the US and the UK higher education systems is the typical teaching style. Degree studies in the UK tend to be heavily lecture based, with some smaller group tutorials mixed in.

UK universities put a focus on self-directed study, meaning depending on which subject you study, you may have relatively few 'contact hours' with your tutors, when you are attending lectures or seminars.

Inversely, US students tend to have much busier schedules. They usually have more assignments to complete and more classes to attend. Those classes will also often include a lot of active discussion between the students and the professor.

In fact, a large part of your grade at a US university will be based on your participation in classes! With a UK degree, the bulk of your grade will be based on end-of-year exams.

Both of these teaching and assessment styles will suit different people. If you are an independent learner and comfortable taking exams, you might like to study in the UK; if you prefer a more collaborative study experience, the USA might suit you better.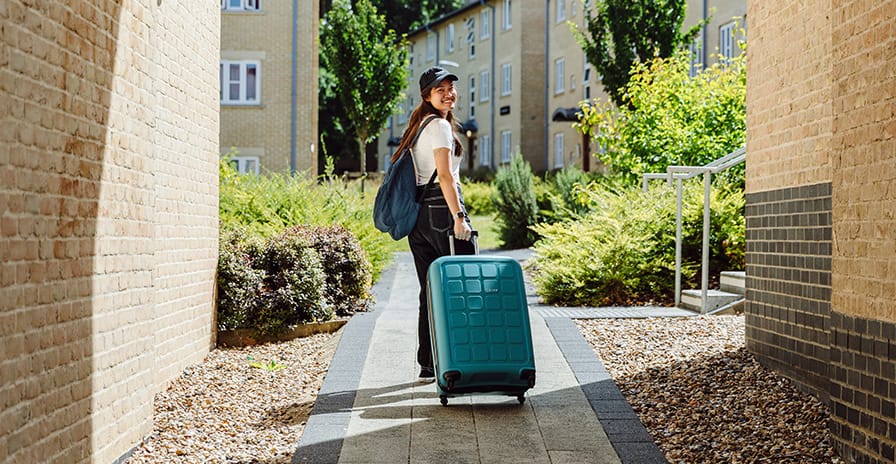 Accommodation
Similarly, how much you like spending your free time around other people could affect your choice too. Both countries typically offer first-year students on-campus housing, but one key difference is how accommodation is shared between students.

It's very common for students in the USA to share a bedroom with at least one other student during their first year. This is great if you enjoy spending most of your time with other people — your roommate could be a built-in best friend!

Meanwhile, in the UK, very few universities offer shared rooms. It is much more common to have your own bedroom in a shared flat instead. Alternatively, lots of universities and student accommodation providers in the UK offer studio apartments where you can live by yourself.
Clubs and societies
Students in both the UK and the USA will have plenty of university clubs and societies to join. These usually cover a wide range of interests, from groups for students from a particular country to Harry Potter fan clubs and even dog-walking societies!

However, there is one big difference between clubs and societies in the UK and the USA — something known as 'Greek life'. Greek life refers to a special kind of student society, called a fraternity for male students, and a sorority for female students. These often take their names from the Greek alphabet.

Fraternities and sororities are unique to US universities. If you'd like to join one, you must 'pledge' them during the first weeks of the semester, usually by completing a series of challenges set for prospective members.

Not everyone who pledges a sorority or fraternity will be accepted, but those who are will often have the opportunity to live in a shared house with their 'brothers' or 'sisters'. This gives students a great opportunity to build a social and professional network.
Sports culture
College sports are a huge part of university life in the USA. University sports teams fill stadiums with fans and inter-university games are shown on TV. Talented athletes can become local celebrities and even get big discounts on their tuition fees!

All of this might make the USA a very attractive destination for students with a big interest in sports, or who want the opportunity to play in high-profile games. Professional teams often pick new players from university leagues, so attending a US university could be a great option if you're interested in pursuing a sporting career after you graduate.

This is not to say that there aren't opportunities for budding athletes in the UK. Most UK universities have a range of sports teams you can join and compete for in university leagues. However, university-level sport is not such a big part of the culture in the United Kingdom, meaning if it's not something you're interested in, it's much easier to avoid on UK campuses.
Is the US or UK higher education system right for me?
These are just some of the differences between the US and UK higher education systems. Ultimately, which country is the right study destination for you will depend on your interests and priorities.

If you're passionate about one or two subjects and want to obtain your degree in the shortest time, and within a budget, a UK university might be the right choice for you. The UK system is also ideal for independent learners.

However, if you'd like to explore a range of different subjects, enjoy a more interactive learning experience or are excited by the idea of American campus life, it's the USA all the way!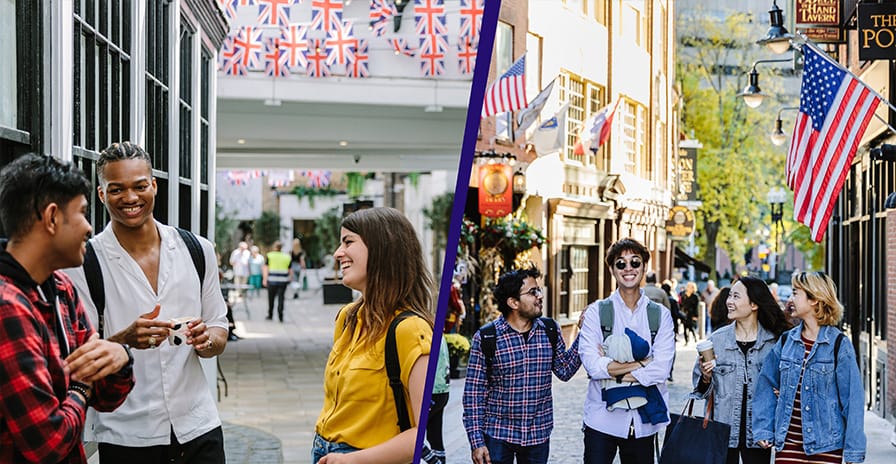 Study in the USA or UK
Whether you think it's the USA or UK that's right for you, Kaplan can help. We offer international students degree admission at a range of top universities, and can help guide students through the application process, from choosing a subject to writing a personal statement and preparing for visa interviews.

If your grades don't currently meet the entry requirements for a US or UK university, we can help you too.

Through Kaplan, you can study a degree preparation programme known as a pathway course. This will help you to improve your English language level, academic skills and subject knowledge so you can gain entry to a degree in the USA or UK. When you successfully pass your programme, you're guaranteed entry to your chosen degree!

Why not get started by browsing your degree options below? Alternatively, if you'd like to know more about how we can help you, feel free to contact us and we'll be happy to advise you.