Victoria's natural beauty, historic charm and temperate climate make it one of Canada's most popular travel destinations.

This small but charming city is located on Vancouver Island where mountains, dense forests and the ocean create an exotic blend of natural wonders. In addition to its unique landscape, Victoria has many historical landmarks, museums, and outdoor adventures for students to explore.

Below, we've listed six places that every student should visit while studying in Victoria.
1. Visit Butchart Gardens
Enjoy a stroll through Victoria's famous Butchart Gardens, a 55-acre plot full of flower beds, statues, ponds and stone bridges.

Its themed landscape is made of five distinct gardens: the Japanese, Italian, Mediterranean, rose and sunken gardens. By visiting each, you can encounter over 900 variations of plants nestled in their own unique arrangement.

Open year round, the gardens offer a different display and experience with each season. Visit in the spring to witness thousands of flowers blossom, or during the fall to catch the stunning red and gold foliage. There is always something new to discover here, no matter what time of year you visit.
2. Tour Chinatown and Fan Tan Alley
Experience the history and unique scenery of Canada's oldest Chinatown.

Upon discovering gold in British Columbia's Fraser Canyon, a mass influx of miners from California relocated to the province — about one-third of which was Chinese. By 1858, Chinatown had been founded and began to develop into the vibrant neighbourhood you see today.

As you explore, you'll find an abundance of history through landmarks like the Gate of Harmonious Interest or the Yen Wo Society, the oldest Chinese temple in the country.

Visitors can also find themselves walking down Chinatown's Fan Tan Alley, Canada's smallest street being only one metre wide and 73 metres long!

Surrounded by several locally owned businesses, you'll be able to roam the alley while enjoying a wide range of stores from ice cream and vinyl shops, to trendy clothing and art boutiques.

Don't forget to grab a bite on your way out! You can choose from a wide variety of dim sum options while enjoying a stunning view of Chinatown at Don Mee. Or if you're looking for lunch, you can grab a giant bowl of soup with dumplings and BBQ pork at Wah Lai Yuen.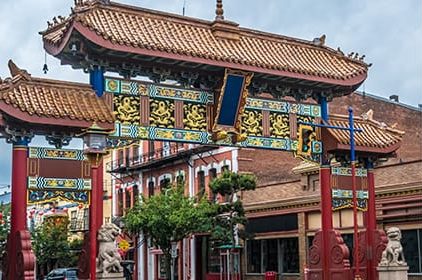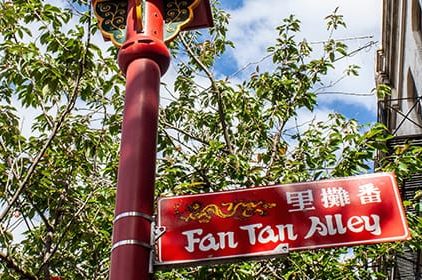 3. Uncover history at the Royal BC Museum
Explore one of Canada's greatest cultural treasures at the Royal BC Museum!

Founded in 1886, this world-class museum tells the story of early British Columbia's (BC) natural and human history. Here, you will experience over a million years of history through authentic artifacts and highly realistic settings, from the Woolly Mammoth in his rocky, icy world to the province's first human settlers.

During your visit, you'll stumble upon the Indigenous Collections where you will find a large collection of totems, masks and cultural artifacts. It offers many interactive exhibits and even provides a relaxing cocoon where you can listen to the stories and lullabies of the First Peoples.

As you continue to journey through the museum, you'll also come across a variety of plants, animals and insects that are native to BC. With thousands in its collection, the museum offers a unique opportunity to observe organisms at various life stages.

In addition to the museum's permanent collections, there are always new specimens and exhibitions being added. So, you will likely find something new anytime you visit the museum during the year.
4. Go to Craigdarroch Castle
Built on the highest point of land in Victoria, the historic Craigdarroch Castle is a Victorian masterpiece you can't miss!

Constructed in 1890, this home was built for Robert Dunsmuir, the wealthiest man in Canada at the time. Today it is designated as a national historic site because of its eclectic design and features. It also provides insight into Victoria's history and the life of the wealthy during the late 19th century.

During your tour, you'll notice opulent details throughout the home's 39 rooms, including multiple turrets, stained-glass windows, intricate woodwork and antique furnishings and paintings.

The tour also includes a history lesson on the Dunsmuir family. By learning their story, you'll get a glimpse of privileged life in the 1890s as you navigate through the 2,322+ square metre home.
5. Take a stroll through Beacon Hill Park
An afternoon spent at Beacon Hill Park with friends or simply by yourself is a perfect way to unwind. Located in downtown Victoria, the huge 200-acre park offers so much to do.

As you wander around you'll come across many trails that lead you to western edge of Canada. On your way, take time to admire the park's many gardens, statues, animals and views of its lakes and the Juan de Fuca Strait.

Among these is Goodacre Lake — one of Beacon Hill Park's most beautiful attractions. Lush green trees frame the lake, adding to its beauty and providing shade for those who want to enjoy a simple afternoon relaxing. Ducks and geese often swim alongside the lake's stone bridge, creating an ideal landscape for photographers and artists.

In addition to the park's wildlife, you can pet goats, sheep, rabbits, alpacas, donkeys, and more at the Beacon Hill Children's Farm. The farm is a buzzing place with over a hundred farm animals and many visitors. It is open daily to visitors from early March through October.

Before you leave, make sure you find the Moss Lady. The statue was created by local artist Dale Doebert with help from city employees, and installed in the park in 1995.

With her arms outstretched and her face turned upward, the statue depicts a graceful and serene woman made entirely of moss. It is said that she symbolises the importance of preserving nature and the beauty of the natural world.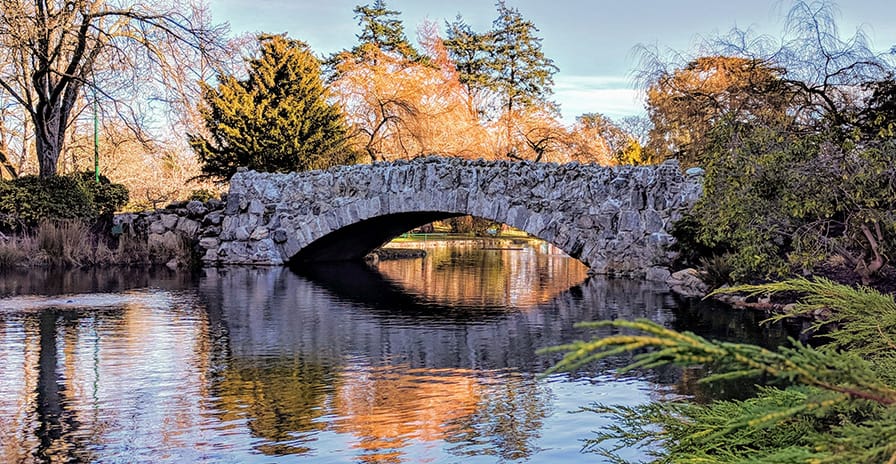 6. Fly high at Adrena LINE
There is nothing quite like seeing mountain and ocean views from above the forest treetops.

At Adrena LINE, you'll be able to experience this natural beauty from multiple views as you zip line across Vancouver Island's coastal rainforest.

With assistance from professionally trained staff, visitors can travel at speeds up to 72 kph on 10 scenic zip lines ranging from 39 to 701 metres.

Additionally, Adrena LINE also offers adventure packages that combine the best of land and sea. Spend half the day kayaking along the coast or whale watching, and the other half zip lining through the forest when you book this ultimate excursion.
How can you study abroad in Victoria?
With help from Kaplan, you can study at the University of Victoria and explore everything the city has to offer. To learn more about living and studying at the University, get in touch with one of our advisors today. We're here to help!