Hi, my name is Sanako and I'm from Japan. I am studying a bachelor's degree in Art History at the University of York.
 
A popular place where my friends and I meet up is cafés! Cafés are great because not only do they provide yummy food and good coffee, they bring you a sense of calm. So, I'm sharing my top three cafés in York with you.
1. Dyls
An independent, family-run business where they have a passion for all things local and fresh! Dyls is located right on the River Ouse near Clifford's Tower — making it a very appealing café to students.

The café's interior can be described as traditional, with a modern touch. Each section of the seating area is different and has unique décor to complement it. As an art lover, I cannot help but observe how beautiful the decorations are!

The café boasts four individual rooms with indoor seating alongside a lovely terrace. My favourite room is the Tower Room — painted olive green, surrounded by plants, and finished off with a wonderful antique mirror. When it's sunny, this room comes to life and it looks even more stunning!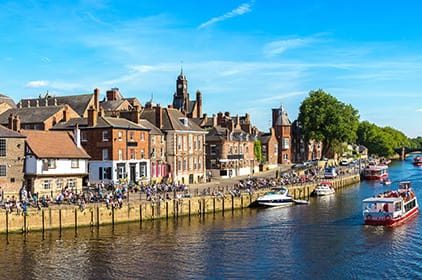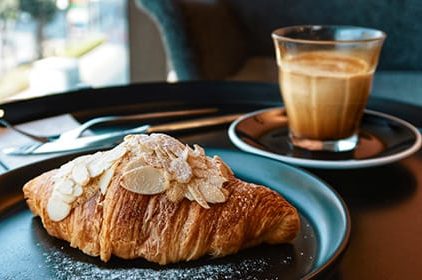 2. Partisan
An independent restaurant, café and arts space in York city centre. The blue-green tile wall is what makes this place unique and different from the rest!

Partisan serves breakfast, brunch, lunch and afternoon tea everyday of the week, giving you plenty of choice! I definitely recommend this place for brunch. My all-time favourite brunch is their French toast — consisting of fresh berries, bananas, cream, and rich maple syrup to top it all off. It's served on a hot pan, so the bread remains soft, and the cream is slightly melted. It's perfect!

The atmosphere of this café is cosy and homely, so it's an ideal place to wind down or catch up with friends. Once you enter the café, tempting cakes and pastries welcome you.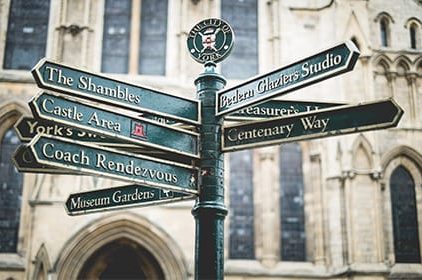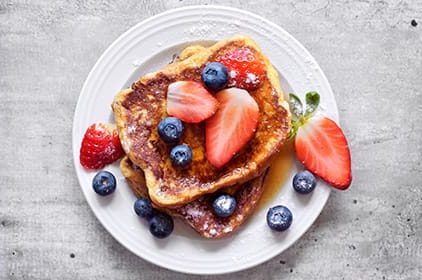 3. Parlormade Café and Scone House
Go back in time with stylish and original tearooms located over three floors in a wooden frame building located in York's historic Shambles! The café and scone house is very popular among the city's visitors and is known to have the best scones in York! You'll have plenty of choice as there's a variety of scones and other sweet treats to choose from.

The staff are amazing and make me feel so comfortable whenever I come here. So, if you're looking to experience British tea afternoon with your friends, I highly recommend the Parlormade Café and Scone House. You will love it just as much as I do!

Check out my favourite Japanese restaurant too!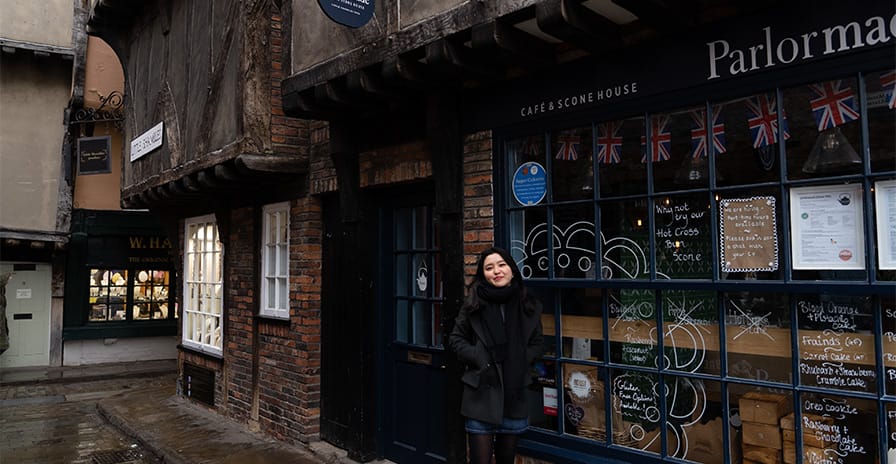 Study a degree in York
If you want to visit York's elegant cafés while studying here as an international student, Kaplan can help you with this. You can study a degree preparation course at the University of York International Pathway College (just like I did!) that can lead you to a degree at the University of York.

Kaplan's Education Advisors are really friendly, and will tell you all about your study options and how you can become a student in York.