My name is Kayode and I'm from Nigeria.

For most of my life my dad has been my main inspiration for my educational path. Working as an aircraft engineer in the Nigerian Air Force, he often spoke at great length about his job.

I vividly remember being taken to his place of work and being surrounded by amazing technological feats, and it was in that moment I was hooked! After finishing high school, I began searching for a degree in Aerospace Engineering. Unfortunately, the kind of course I was looking for was not offered in Nigeria, so that is when I decided to look into studying abroad.

The United Kingdom was the most obvious choice for me because of its proximity to Nigeria and its excellent reputation for engineering. This was back in 2015 and I studied an undergraduate degree, which I completed before returning to Nigeria.

However, about a year after graduating, I felt a strong desire to specialise, so I began applying to master's programmes in multiple countries, including Canada, the USA and the UK. It was during this time that I came across Kaplan.
Applying to study abroad
I received several rejections from universities during this time because I didn't meet their entry requirements and after a while I was at my wits' end and ready to give up. That's when I discovered the Aerospace Engineering and Management master's degree at the University of Glasgow in Scotland.

I applied and was unfortunately rejected but, before I knew it, I received an email from a Kaplan representative offering me a glimmer of hope! I had the chance to take a Pre-Master's pathway course that would give me guaranteed admission to the degree I wanted to study upon successful completion of the course.

This was too great an opportunity to pass up, and the Kaplan adviser showed genuine interest in my progress and admission, so I knew that studying with Kaplan would be the right choice — and it was!
Studying a pathway course and a degree
It was finally time to start my Pre-Master's course at Glasgow International College, the Kaplan college that's on campus at the University of Glasgow. Having been to the UK before, I was somewhat ready for what most international students might worry about, like the weather, the cultural differences, and being away from home.

When I arrived, I remember feeling like it was a dream. I couldn't believe I was actually able to make it back to the UK after trying for so long, and all I felt was excitement!

My tutors on the Pre-Master's in Science and Engineering course were so helpful that it was practically impossible for me to not understand what they were teaching us. I think my classmates felt the same way as we all successfully completed the programme.

My favourite module was Statistics as I have an affinity with numbers and mathematics in general. The information I learnt also proved to be relevant for my master's degree study.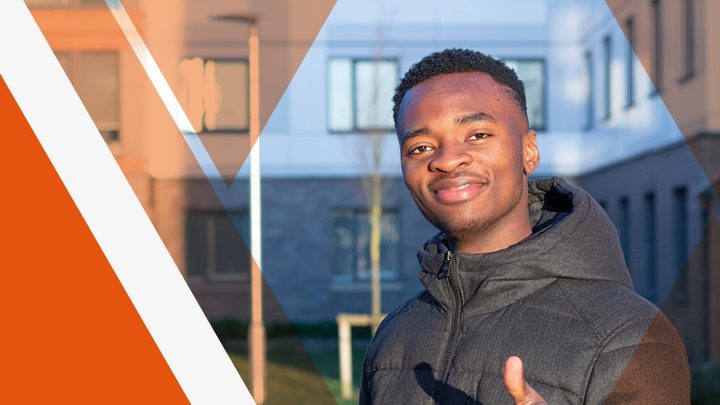 The major skills I developed during my pathway course and degree are my communication and presentation skills. I had to give multiple presentations both individually and as part of a group, and this really forced me out of my comfort zone — now, I'd even say that I love public speaking! It's become a big part of my everyday life and it has since been a contributing factor in landing a job.

I also learnt practical steps to improve my time management. During my pathway course I was assigned a supervisor who helped me with my study plans and showed me how to find a balance between studying and resting.

As I was studying online, it was easy to get lost in staring at screens for hours, but she taught me the best ways to work effectively. She gave me simple tips, such as planning breaks, resting enough, focusing on mental health, avoiding procrastination, and so much more.
Gaining work experience
Of all my time in the UK, one of my most memorable experiences is working as a Student Content Creator and as an intern.

As a Student Content Creator, I created blogs, vlogs, and TikToks, but my favourite responsibility was talking to prospective students and their parents. It was a unique opportunity to help and encourage students like myself to take the chance that I took, so that they could achieve their full potential.

I even had the opportunity to apply for an internship with Kaplan Pathways' Content and Marketing team, and I was so happy to get the position! I worked across various departments, from content and design to product marketing and customer relationship management. I got to meet the brains behind Kaplan and contribute to their work in supporting students.

I was incredibly thankful for the opportunity as it was the first real-life working experience I had ever had. It looks great on my CV and it was a great confidence-builder going into other companies.
Looking back and looking forward
The best thing about studying abroad was making new friends. The friends I made are some of the best I've ever had, and I'm truly grateful for the chance to have made friends with people from different cultures and countries beside my own. It's exposed me to new ways of thinking, and all kinds of delicious food!

To anyone thinking of studying abroad, I would say: do not forget to have fun! The time flies by faster than you think, so make the best use of it and connect with your tutors and classmates to build lasting and meaningful relationships that will extend beyond the programme.

My current career goal is to be a Project Manager in an engineering company. I would like to do this while simultaneously running a foundation to aid the less privileged, starting with the struggling orphanages in my country, Nigeria, and extending outwards.