Studying abroad in an unfamiliar part of the world can be daunting for international students. You want to know that you'll be kept safe, and it's your university's job to make sure you feel as comfortable as possible in your learning environment.

This is why we are proud to reveal that our partner universities are among the safest in America. Read on to find out how these incredible institutions protect their students and work to create an inclusive community where you can enjoy university life to the fullest.
The University of Connecticut
In 2021, the University of Connecticut (UConn) was named the #1 safest university in America, according to (SafeAtLast, 2021).

There are lots of reasons why it earned this fantastic accolade. One main reason is that the University has its own police department, with substations on every campus so students can trust that assistance is never far away if they need it.

This huge achievement is also attributed to the extensive list of educational resources and opportunities UConn provides for the community. These include self-defense classes for both men and women, presentations about safety on campus, and an international student orientation that you can attend if you want to feel even more protected.
The University of Connecticut is the #1 safest university in America
(SafeAtLast, 2021)
The University has its own police department
with substations on every campus
There are also many points of contact for students if they feel in danger. Firstly, there are blue phones in multiple locations across campus that put students directly through to the UConn Police Department.

Several important contacts have also been made public to students, both for emergencies and non-emergencies, and all of the lines are staffed 24/7.
Pace University
Pace University has been ranked the #3 safest university in America (YourLocalSecurity, 2021). In addition, New York, where both Pace campuses are located, was also ranked as the 12th safest cities in the world for travellers (Far and Wide 2023).

One reason why Pace University has such excellent security is because its New York City campus is located right next to the mayor's office and New York City Hall, meaning it's in a location with very high security standards.

Pace makes sure that students feel safe as soon as they arrive on campus, with security guards posted at each entrance, who are all licensed by the state of New York, alongside multiple cameras and ID requirements to enter.

There are also cameras and security guards throughout the campus, as well as emergency phones, which provide a direct line to security staff.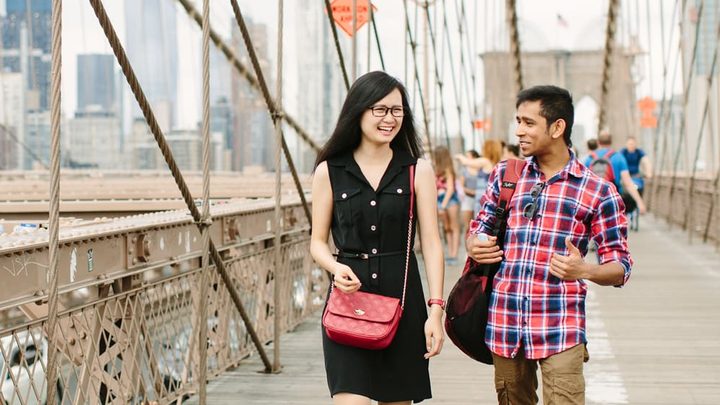 Another effective precaution that the University has taken is the creation of the PaceSafe app. It's been downloaded over 20,000 times and contains many useful resources to make students safer on campus. These include contact numbers, a place to file reports, an emergency 911 button and a feature allowing students to request an escort when walking alone through the grounds.

Aside from the physical aspects of campus safety, Pace also contributes to the safeguarding of students, especially international ones, by promoting an ethos of diversity and inclusion and creating a welcoming space for all students.

This should give students peace of mind and the knowledge that they are part of the community, and that discriminatory behavior against anyone is not tolerated.
Simmons University
Simmons University is a private women-centered university in Boston, a city which was ranked in the top 60 safest cities in America by (WalletHub, 2021).  

One of the main factors resulting in the overall safety of students is that the residential campus is a gated community, with the gates closing at 11pm. 

The Public Safety Department also provides police and security services to the Simmons University community. The department supplies officers who are responsible for campus-wide patrols and special events security, so there is a visible network of police to make students feel more at ease when walking through campus.

The Simmons University Police Department has an office on campus at One Palace Road and, since police officers are commissioned under the Massachusetts State Police, they have full police powers on all Simmons University properties. 
Emergency phones with easy-access help buttons are also present on campus, and safety escorts are available upon request.

There are plenty of hotlines and non-emergency contacts for students to use, as well as a POM device, which stands for Peace of Mind. This acts as a personal safety gadget which connects to your smartphone and alerts the nearest emergency responder when activated.

Finally, there is a wealth of safety advice on the University website as well as a variety of workshops, making sure students and staff stay well informed on how to protect themselves. Topics range from how to stay safe when meeting new people to best practices when living in public residence halls.
Arizona State University
Arizona State University (ASU) is another US institution that goes to great lengths to ensure the safety of its students.

Emergency contacts are available for a number of services, including a counseling service, and there is a telephone number to call after hours so students can always access the assistance they require. There is also a platform for people to report various incidents that they would like to be investigated.

Much like the other universities in this list, emergency phones marked with a bright blue light are also located in parking lots and high traffic areas on all ASU campuses.

Other services on offer include alcohol education and fire safety, as well as a safety escort service. Campuses are also made safer thanks to the University's transportation services, including bike valet stations and intercampus shuttles.
In addition, the University has created the ASU LiveSafe app, which has many helpful features. These include updated alerts about crimes on campus and SafeWalk, which allows you to talk on the phone to a family member or friend while they track your location and journey progress.

Finally, the Office of Student Rights and Responsibilities is there to promote a safe and inclusive environment that nurtures the social and ethical development of students.

It's also great to know that the three cities that ASU's campuses are based in; Mesa, Tempe and Glendale, are all ranked as some of the safest in the USA.
Mesa is the 46th safest city in the USA
WalletHub, 2021
Tempe is the 42nd safest city in the USA
WalletHub, 2021
Glendale is the 77th safest city in the USA
WalletHub, 2021
Feel safe while studying in the USA
All of these universities share the common goal of doing everything possible to keep students safe.

Their efforts contribute positively to every student's university experience and will ultimately help you achieve your full potential by allowing you to focus on your studies without external factors, such as safety, causing a distraction.

If studying at one of our partner universities in the USA sounds like something you'd be interested in, why not get in touch and find out more about how to begin your study abroad journey?