Kaplan International Pathways has partnered with The Engineering & Design Institute London (TEDI-London) in the UK to offer students direct admission to an undergraduate Engineering degree. Read on to learn what you can study and what makes TEDI-London different.
What can I study?
Engineering is a consistently popular degree choice among international students. You'll learn skills that are always in demand, making careers in the field very stable. Engineers also report high levels of job satisfaction and can command attractive salaries — the average annual salary for a Design Engineer in the City of London is more than £68,000 (totaljobs.com).

At TEDI-London, you'll have two exciting degree options:

BEng (Hons) Global Design Engineering
MEng (Hons) Global Design Engineering
The MEng option is a four-year undergraduate integrated master's degree, generally recognised as meeting the educational requirements for professional registration under the Washington Accord.

Further information, including entry requirements, can be found on our degree finder.
Why choose TEDI-London?
TEDI-London is a new and innovative institution, but it has many years of prestige behind it. The institute was founded by three highly ranked international universities: Arizona State University, King's College London and UNSW Sydney. This means you'll benefit from expertise and cutting-edge research from all across the globe.
ASU is #1 in the USA for Innovation
U.S. News & World Report, 8 years, 2016–2023
King's College London ranks 37th in the world
QS World University Rankings 2023
UNSW Sydney ranks 45th in the world
QS World University Rankings 2023
Together, these universities form the PLuS alliance, an organisation devoted to solving global challenges, increasing access to high-quality education and creating a sustainable future. In line with this philosophy, TEDI-London focuses on globally responsible engineering, with many projects aligned with the UN's Sustainable Development Goals.
Learning that gets you job ready
What really sets TEDI-London apart is its approach to teaching. You won't find any lecture halls on its London campus — all learning here is practical and interactive.

Industry experts, many of whom are still actively working in the Engineering field, deliver a project-based curriculum designed to get you job ready, so that when you graduate, you have all the skills you need to start your career.

That's why at TEDI-London you're not considered a student, but a Trainee Engineer. You will also be a member of the Institute of Engineering and Technology (IET) and enjoy access to their resources and extensive industry network.

At TEDI-London's campus in Canada Water, you'll benefit from exceptional facilities, from 3D printing to large-scale equipment and teaching rooms. Here, you'll mix team-based practical projects with interactive online modules that you can complete at your own pace.

The curriculum covers many different areas of Engineering, from Civil and Electrical Engineering to Environmental Engineering, Mechanical Engineering and Product Design. This will allow you to gain a broad base of knowledge and decide which specialisms you might like to focus on in your career.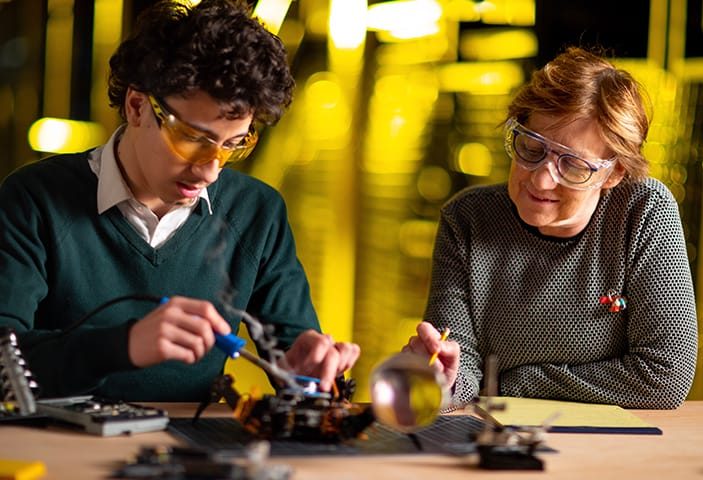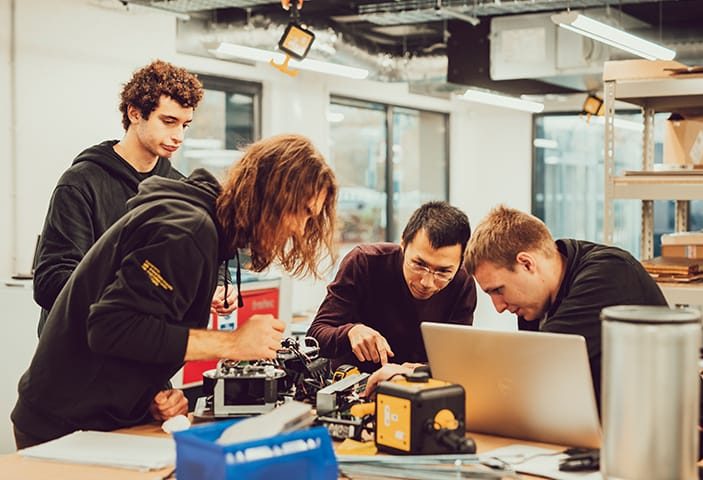 An inclusive approach to admissions
Another area where TEDI-London stands out is in its admissions process. Rather than expecting potential students to fit a certain mould, they welcome applicants from diverse academic backgrounds.

You'll be assessed holistically, meaning that what matters is being a good fit for TEDI-London and whether you have the potential to make a great Engineer, rather than what grades you have or subjects you have studied in the past.

Unlike many other Engineering programmes, you don't need to already have A levels in Mathematics or Physics to study at TEDI-London. These are important skills for Engineers to master, but if you haven't studied them before you will have options to get up to speed with a short course or online test.

This flexibility makes TEDI-London a truly inclusive environment, with the institute also committed to increasing diversity among its student population.
Apply to TEDI-London
If you think you've got the makings of a great Engineer, you can reach your potential at TEDI-London. Through Kaplan, you can apply for direct admission to a degree from September 2023 and benefit from our expert advice on the application process, supporting documents and more.

Why not learn more about applying for TEDI-London? Or if you're ready, you can apply now!
If you have any questions about how to apply or if TEDI-London is right for you, you can contact us and one of our friendly advisors will be happy to help you.

Alternatively, download the TEDI-London international brochure below to learn more about this exciting institution.