Black History Month has been celebrated in the UK in October since 1987. It provides a platform to celebrate the achievements of black people, which for many years have been overlooked in the teaching of history. It is an excellent opportunity to put a spotlight on the contributions of the UK's Black community across science, politics and the arts.
Who was Stuart Hall?
Stuart Hall was a Jamaican-born British sociologist, cultural theorist and political activist. He was born in Kingston in 1932 then came to the UK in the 1950s and was later dubbed the "godfather of multiculturalism" for his contributions to Sociology.
He was one of the founding figures of the British Cultural Studies school of thought, and in 1964, he co-founded the Centre for Contemporary Cultural Studies at the University of Birmingham, one of our partner universities.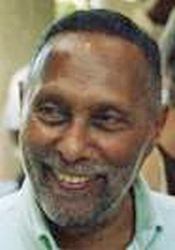 What is Cultural Studies?
Cultural Studies is essentially the study of how cultural practices relate to wider systems of power. It looks at social phenomena such as ideology, class structures, race, gender and religion, to understand everyday life in contemporary society.

According to this New Yorker article, Cultural Studies:

"…emerged in England, in the 1950s and 60s, when scholars from working-class backgrounds… began thinking about the distance between canonical cultural touchstones — the music or books that were supposed to teach you how to be civil and well-mannered — and their own upbringings.

These scholars believed that the rise of mass communications and popular forms [of media] were permanently changing our relationship to power and authority, and to one another. There was no longer consensus."

Stuart Hall was one of these forward-thinking scholars. And, while he directed the Centre for Contemporary Cultural Studies during the 1970s, he played an important role in broadening the topics covered in Cultural Studies to include race and gender.

What did the Centre for Contemporary Cultural Studies do?
The Centre for Contemporary Cultural Studies at the University of Birmingham was one of the first academic bodies to take "mass" culture, which includes pop music, television programmes and fashion, seriously.

This approach was innovative and unconventional since most academics focused on what's known as "high" culture, such as books and classical music.

The work produced at the Centre showed that popular culture was an important area of study, and ultimately, it helped to make Cultural Studies an international discipline. The Birmingham School is known around the world for its pioneering research and ground-breaking practices, and Stuart Hall was a leading figure behind it all.

The Centre for Contemporary Cultural Studies merged with the University's Department of Sociology in 2002. However, in 2014, to mark the 50th anniversary of its founding, the University of Birmingham created an archive of the Centre's materials, which is housed at the Cadbury Research Library in Birmingham.

The project aims to shed a light on the Centre's legacy and, up until his death in 2014 (the same year the project was launched), Stuart Hall himself had helped to bring it to life.
Stuart Hall's legacy
Through his pioneering work, Stuart Hall shaped the way people view and understand contemporary society. His theories turned previously held ideas of culture upside down, and opened up conversations about the relationship between culture and power at all levels of society.
He helped to bring Cultural Studies to the world and his body of work is an excellent example of the importance of university research. Thanks to Stuart Hall, Cultural Studies is now a mainstream area of study, with most universities offering degrees and modules on this aspect of Sociology.

Stuart Hall's legacy of embracing multiculturalism has left a profound mark on life in the UK, and helped people to celebrate its diversity.
Follow in his footsteps
If you're inspired by Stuart Hall and are interested in gaining an education in Sociology, then you can study a degree at one of our partner universities. Maybe you could even become one of your generation's great thinkers! Just use our handy degree finder below to browse the study options available to you.