With so many top-ranked graduate programs at Arizona State University, prospective students face a tough choice when deciding which degree program is best for them. What's more, many applicants who are interested in business often find themselves choosing between ASU's Master of Global Management (MGM) and Master of Business Administration (MBA) degrees.

Are you a student who is trying to decide whether earning an MGM or an MBA might be better for your future career goals? Below, we'll guide you through some of the key differences between 2 of ASU's most popular graduate degree programs.
Understanding the MGM and MBA degree programs
Young professionals are often drawn to ASU's MGM and MBA degree programs as a way to further their careers into positions of leadership. However, while there is some overlap between an MGM and an MBA, at their cores, these 2 degrees are very different.

Accordingly, the table below summarizes the key differences between ASU's MGM and MBA degree programs: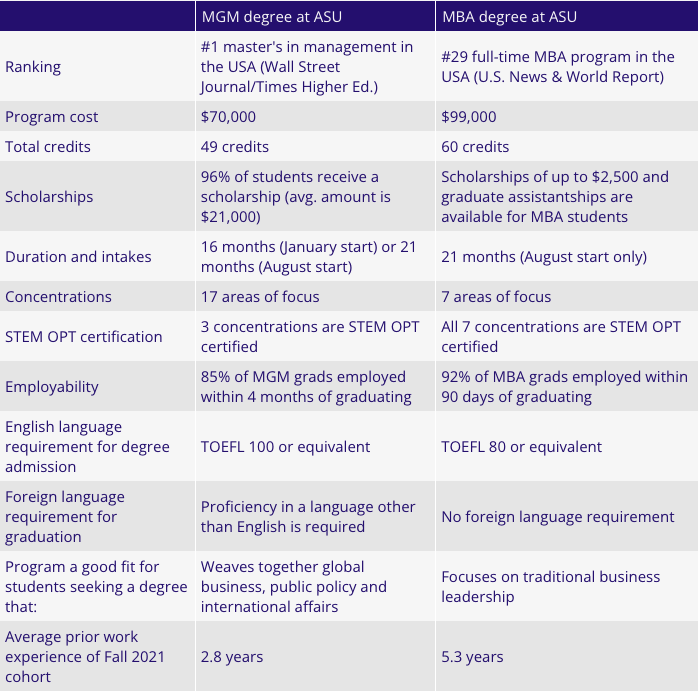 Located at the Thunderbird School of Global Management in downtown Phoenix, ASU's MGM degree has a keen focus on digital technology and global affairs. With tech at its very core — VR, AI and touchscreen tables, to name just a few — ASU's MGM degree ranks as the #1 master's in management program in the USA (The Wall Street Journal and Times Higher Education).

Given its global orientation, MGM graduates often find work at international companies that operate across borders and cultures, solving complex issues that have a worldwide impact, such as climate change, pollution, education and healthcare.

By comparison, a more traditional master in business degree option, MBA students reap the benefits of studying in a top-30 business school (U.S. News & World Report, 2023). Located on Tempe campus, the W. P. Carey School of Business is one of the largest business schools in the USA. Its impressive 250+ faculty members often publish articles in The New York Times, The Wall Street Journal, Forbes, USA Today and CNN.

Further key rankings for ASU's MBA program include:
#1 MBA for Operations (The Princeton Review)
#2 MBA for Project Management (U.S. News & World Report)
#3 MBA for Supply Chain and Logistics (U.S. News & World Report)
#5 for greatest resources for minority students (The Princeton Review)
#11 MBA with highest return on investment (U.S. News & World Report)
#13 executive MBA programs (U.S. News & World Report)
Degree customization and flexibility
In addition to joining top-ranked programs, both MBA and MGM students will enjoy great flexibility in their degrees.

Generally, ASU's MBA and MGM degrees are both 2-year programs. Furthermore, each degree comes with built-in customization, allowing students to choose a specific area of focus within their degree.

For example, students earning a Master in Business degree can choose from 7 focuses, including:
Business Analytics
Consulting
Entrepreneurship
Finance
Information Management
Marketing
Supply Chain Management
On the other hand, students earning a Master in Global Management degree can choose from 16 different concentrations, including:
Creative Industries and Design Thinking
Data Sciences
Development and Innovation
Digital Audience Strategy
Digital Transformation
Global Affairs, Business and Entrepreneurship
Healthcare Delivery
Integrated Healthcare
Legal Studies
Nonprofit Leadership Management
Public Administration
Public Policy
Sustainable Tourism
Sustainability Solutions
In addition, at Thunderbird, MGM students may choose to design their own concentration to better fit their career goals.
Special opportunities for MGM and MBA students
Both ASU's MGM and MBA degrees come with their own set of unique features. For example, Thunderbird's MGM degree seamlessly integrates with state-of-the-art technologies. Accordingly, students who join ASU's MGM program are poised to play a key role in the Fourth Industrial Revolution.

Moreover, with its global focus, nearly 50% of MGM students are non-native to the USA. In fact, 27 countries are represented in the program. In addition, "T-birds" (Thunderbird students) must prove their proficiency in a language other than English in order to graduate.

On the other hand, ASU's MBA degree is designed to build skills that help students become well-rounded business leaders in the modern workforce.

Furthermore, ASU's master in business degree program overlaps with several other fields, presenting an ideal opportunity for students to pursue a second master's degree in a different area. As MBA students, the cost of earning a second master's degree is cheaper than applying and enrolling in 2 separate degree programs.

Therefore, it's no surprise that many MBA students take advantage of this opportunity, choosing to earn a second degree in Legal Studies, Information Systems Management, Finance or Architecture, among other fields.
Real-world experience and leadership development
Certainly many students who choose to earn a master's degree in business or management have already started developing their leadership skills. However, ASU's MBA and MGM degrees continue to build on that progress, cultivating even stronger leaders who are ready to tackle the toughest of today's challenges.

During their time in the program, all MGM students participate in a 6-credit Global Challenge Lab. This is a full-time, immersive experience, where students are placed in a working environment with a client in an international or domestic location. Global Challenge Lab projects are highly collaborative and team-based.

By comparison, MBA graduates develop leadership skills not only through coursework, but through team exercises and mentorship. Unique to ASU's MBA is its Executive Connections program, which pairs students with one of dozens of senior executives. These mentors coach MBA students and serve as advisors — a rare opportunity among top USA business schools.

In summary, MBA and MGM degrees will prepare students to become leaders who are capable of managerial decision-making.
The power of an MGM or MBA degree from ASU
Above all, a high percentage of MGM and MBA graduates from ASU go on to do amazing things with their careers. As such, both programs boast high employability rates among graduates.
85% of MGM graduates are employed
within 4 months of graduation
92% of MBA graduates are employed
within 90 days of graduation
$134,955
is the average salary of MBA graduates
Graduates of these 2 programs have been offered positions at the following major companies and organizations:
MBA: Amazon, American Express, Apple, Bank of America, CVS, Dell, Intel and Raytheon
MGM: Amazon, Intel, Johnson & Johnson, Saudi Aramco, Rakuten and UNICEF
Are you interested in learning more about an MGM or MBA degree at ASU? If so, get in touch with one of our friendly education advisors to learn more about your options.