The University of Connecticut's main campus in Storrs is ideally located in the heart of the New England region of the USA, halfway between New York City and Boston. It's a beautiful place to study, with lots of green spaces, trees and lovely natural scenery to admire.

With a richly diverse and active campus community, the Storrs campus offers an exciting and welcoming environment with plenty of activities and clubs to get involved in.
Picturesque campus in an ideal east coast location
UConn's main campus in Storrs provides the best of both words: a small town setting that's 2 and a half hours away from New York and less than 2 hours away from Boston.

Not only is this perfect for road trips and exploring more of the USA, but it's also excellent for career prospects. More than 700 employers recruit on campus each year, and you can find countless work experience and internship opportunities in the nearby cities.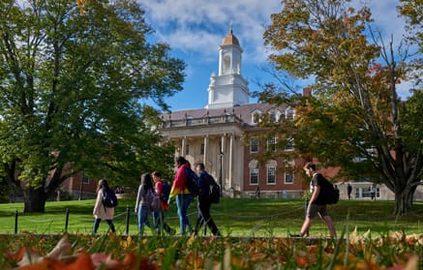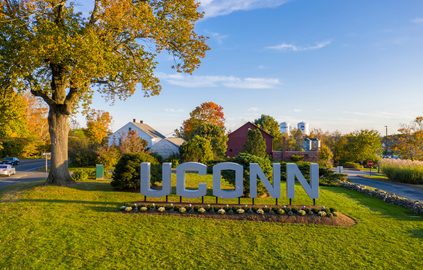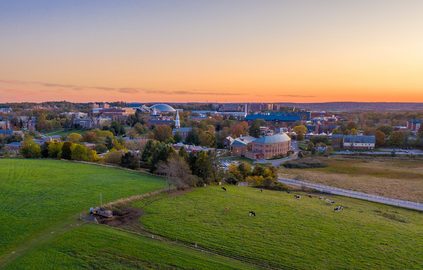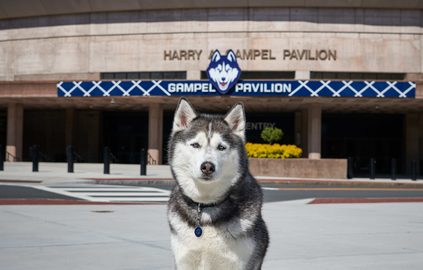 There's also plenty to do in the town of Storrs itself. Right next to UConn, Downtown Storrs is a lively town offering a range of shops, restaurants, parks and more.

If you're into the outdoors, you can find a variety of hiking and mountain biking trails in the Storrs Pond Recreation Area. You can also rent canoes, paddleboards and kayaks, play disc golf and go camping.
World-class sports
Sports are a huge part of Storrs campus life — the UConn Huskies are known for winning national championships.

As a Husky (many US university students refer to themselves by their sports team mascot, in UConn's case a husky dog) you can cheer on the University's Division I athletic teams including basketball, American football, soccer, ice hockey, baseball, field hockey, track and cross country running, swimming and tennis.

The atmosphere during sports events on campus is truly amazing — you'll leave events feeling inspired, energized and proud to be a Husky.
If you want to get more involved in the competitive school spirit, you can try out for one of UConn's many outstanding clubs, where you'll have the opportunity to compete against universities across the country. Choose from clubs including the ski team, water polo, volleyball, martial arts and more.

If you just want to have fun, UConn has a robust intramural sports program too. There are a variety of leagues for all skill levels, and it's a great way to keep fit, try something new and meet fellow Huskies.

Whether you're involved in club sports, intramural sports, or just want to exercise, you can enjoy UConn's brand new Student Recreation Center. Covering 17,500 square meters, it provides impressive facilities including:
fitness and cycle studios offering a range of classes
weights and cardio equipment
an aquatic center
a climbing center
an indoor track
an adventure center that organizes weekend and week-long outdoor trips
Arts and culture
If sports aren't your thing, there are plenty of other activities to get involved in. The Storrs campus is home to 4 art galleries, including The William Benton Museum of Art, Connecticut's State art museum.

The Benton's changing exhibits feature works by UConn fine arts professors and instructors, nationally renowned artists, and items from the 3 campus museums. Admission to the Benton is completely free, so it's a great place to visit if you're on a budget.

There are also 5 on-campus theaters, including the Jorgensen Center for the Performing Arts. National and international entertainers have performed on the Jorgensen stage for more than half a century.

There's also the Connecticut Repertory Theatre, which presents a wide range of material including contemporary plays, American musicals, and great works from the classics of world drama.
Tasty and varied selection of on-campus food
The award-winning Dining Services department provides excellent food options across the Storrs main campus from its coffee shops, Union Street Market Food Court, restaurants, Grab & Go's, food truck and bakeries — one of which is strictly gluten free. There are also plenty of vegetarian, vegan, nut-free, Kosher and Halal options on campus.

UConn even has its own Dairy Bar on the Storrs main campus, which was originally opened in 1953 to sell dairy products that were made by the Creamery. The Creamery was established in the early 1900s and bottled milk all the way up until 1991.

Today, the Creamery makes ice cream according to its original recipe and sells it through the Dairy Bar, along with a variety of cheeses.
Excellent research opportunities and faciliites
There are plenty of ways to get involved in exciting research projects on UConn's main Storrs campus. Faculty in all schools, colleges, and disciplines — from fine arts to mechanical engineering — are actively engaged in creative projects and research throughout the year.

You can use the Office of Undergraduate Research (OUR) to find opportunities to engage in independent or collaborative research with faculty members and other mentors working across the University's academic disciplines.

There are a number of impressive research facilities on the Storrs main campus in a variety of fields, including:
cybersecurity
energy and sustainability
health behavior
manufacturing
materials
neuroscience
In 2018, UConn opened a new Engineering and Science building, a state-of-the-art facility with modern labs where University researchers drive new innovations in a range of scientific disciplines.
Student clubs and organizations
There are over 700 student clubs and organizations to choose from on the UConn Storrs campus including more than 25 international student associations. With clubs for everything including activism, dance and performing arts, politics, crafts, gaming and more, you'll be able to find a club that suits your interests.

If you're looking for some advice and guidance on adjusting to life in the US at UConn, you can join a student club called Huskies International. The club connects American and international undergraduates through organized activities, including the Huskymates buddy program.
Thriving international student community
UConn's Storrs main campus is home to a diverse and active community of students from nearly 90 different countries. There are 6 different cultural centers and programs on campus that run events and activities for international students to socialize, network and share experiences with fellow students from a diverse range of backgrounds.

There's also plenty of academic, social and practical support available on the Storrs main campus. If you join a Learning Community, you can choose to live with other students with whom you share common interests or an academic focus.

Joining a Learning Community can help with your transition to academic life by providing you with a sense of place and belonging on a larger campus. Nearly 50% of the incoming class participate in Learning Communities, as well as hundreds of students beyond the first year.

There are over 30 Learning Communities on campus to choose from, either based on an interdisciplinary topic or major-focused — some examples include Engineering House, Public Health House and Innovation House.
Each UConn campus also has an International Student and Scholar Services (ISSS) department, where you can get help with immigration and visa queries, finding your way around campus and the surrounding areas, cultural adjustment to the US and more.

You can speak to a named ISSS advisor on each campus about any specific queries or problems. Their website also has resources on topics including health and insurance, finances, living on campus and language support.

The UConn Storrs campus is an exciting and diverse place with so many events, activities and communities for you to get involved in. Whether you're into sports, the arts or are looking to join an academic community that shares your interests, there's a place on the Storrs campus for you.

Use the degree finder below to find out what you can study on the Storrs main campus at the University of Connecticut.